Scentsy Baby & Childrens Gifts
Posted on
We offer a huge range of gifts for babies and children, limited edition soft toys brought to life with a scent paks known as buddies, baby sidekick new born baby toys, Scentsy diffusers for a soothing humidifying sleep and more.
Scentsy Buddies

Our Buddies make great gifts for children. These scented stuffed animals are both cuddly and sweetly scented with Scentsy, suitable from birth. Scentsy Buddies are stuffed plush toys that come to life with fragrance when combined with Scentsy Scent Paks. Just insert a Scent Pak and bring your Buddy to life. Al Scentsy buddies are limited edition and collectable, once one buddy sells out a new buddy is launched in its place. Start or expand your Scentsy buddy collection today or buy a special gift a child will love.
Scentsy Sidekicks

Our cute and playful Stuffed animals for babies are soft and cuddly toys. OUR Scentsy sidekicks are age-appropriate for any baby or toddler. Oh, baby! Scentsy Sidekicks were designed with loads of features wee ones crave, like crinkly legs, teething rings and darling knee socks that move up and down, these cute sidekicks also include hands that attach to car seats, strollers and more and scented with Newborn Nursery. These cute toys make great gifts for little ones from birth and make fantastic unique baby shower gifts.
Scentsy Diffusers - A Humidifier in a Baby's Nursery
Our Scentsy diffuser can be used as a fragrance delivery system, humidifier, and a stunning focal point for your home, a relaxation aid or a night light and lamp! There are so many benefits to buying a Scentsy diffuser for you and your home and your family. Our Scentsy Diffusers are a stunning world class must have product.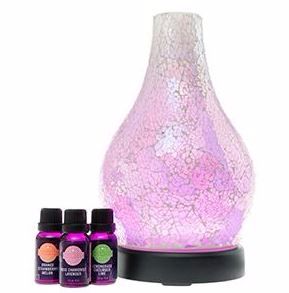 Expectant parents often ignore having a good humidifier when setting up a new nursery. The main reason for not installation a humidifier is because they really don't know the benefits that it brings to their baby when sleeping (during the night).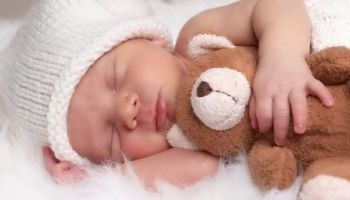 One of the major benefits of having this device in a nursery is the protection it offers against dry air. This is particularly true during the winter when indoor air become dry from the heating system that robs the natural moisture in it.
In addition, a humidifier helps to add the much-needed moisture to a nursery and form an optimal breathing situation during the cold months. This helps your kid to sleep better and loosen mucus build-up. We not only offer a great range of designs to suit any décor we also offer children's themed diffusers too!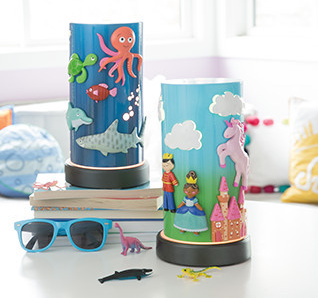 Finally, the rhythmic and comforting hum of a good humidifier and the sound of a water trickle is similar to the whooshing sounds your child heard in the womb. It helps to lull your child into a peaceful sleep. Another great reason to choose Scentsy our diffusers to fragrance, light up or humidify your room.
Now you can see what great benefits our Scentsy diffusers can offer let's look at the great features on offer with each of our Scentsy diffusers too! Our 22cm tall diffusers come in range of styles and all have the same great features.
These unique vessels are currently the world's most advanced ultrasonic nebulising diffuser on the market
We offer a Lifetime warranty with each Scentsy diffuser, which means once you purchase and register your diffuser you can be assured our diffusers are designed to last! If there are any problems with the manufacturing and workmanship of the diffuser you are covered by a lifetime warranty!


Each Scentsy Diffuser has 16 LED light options and a range of colour options. Our lighting options offer you a clear mode, candle flicker mode, various colour modes and also colour rotation mode which allows you to slowly rotate through each colour the diffuser has to offer. The colour options make our Scentsy diffusers a truly stunning decorative piece to add to any home or space.
The Scentsy diffuser is the only diffuser offering interchangeable decorative shades to complement any décor, one shade comes with the diffuser you choose, however in the future if you decide you would like a change without having to re purchase the whole system you can purchase a change of shade from a fraction of the price!
Each diffuser delivers a consistent fragrance experience.
Our High, low and intermittent diffuser modes give you complete control over the intensity and longevity of your fragrance experience or humidity experience.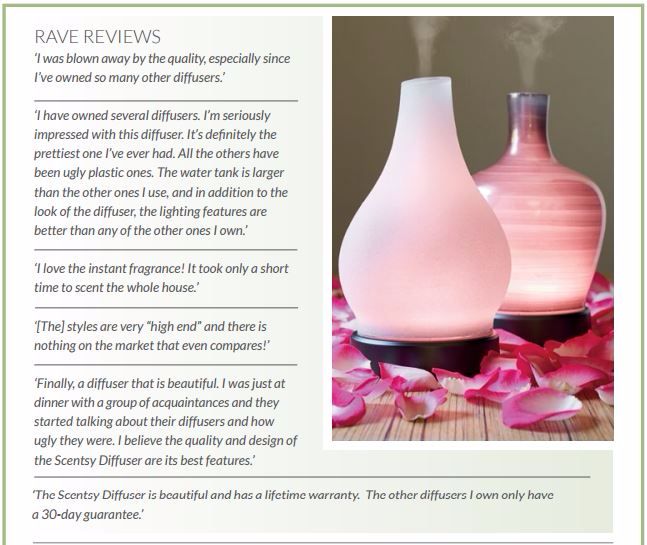 You can customise your own fragrance experience by adding more or less oil to suit how strong you would like your fragrance. If you wish to use your diffuser as a humidifier only without oil, simply fill the reservoir with water and no oil. You get to choose what suits you best to get the best from your Scentsy diffuser and what you wish to diffuse.
Our Cold-mist technology allows you to enjoy Scentsy fragrance & humidity instantly without waiting.