Scentsy GO / Portable Fragrance System
Posted on
Scentsy GO / Portable Fragrance System
Discover our new portable fragrance system Scentsy GO featuring a full seven-colour LED light display and delivers instant fragrance. Our rechargeable battery powered delivery system can be used anywhere, at home, in the office, in the car or on the go! Our amazing Scentsy Go fragrance system is 5.5" tall and is fully portable, lightweight and small enough to take with you wherever you desire.
We have had so many requests for a fragrance delivery system for bathrooms which allows you to deliver Scentsy fragrance without the need of a cord … Now you have it! Our amazing Scentsy Portable fragrance system can be used in your bathroom too! No fuss! No cord… just instant fragrance. The seven colour lighting display is perfect to set our mood while you wind down and relax while enjoying your favourite Scentsy fragrance.
Benefits of Scentsy GO
BATTERY POWER
Charge the internal lithium battery for up to 40 hours of use with the included USB cord - then go anywhere!
COLOUR & LIGHT
Enjoy the full seven-colour LED light display, or adjust to pause on the colour of your choice.
SIMPLE SETUP
Twist open the cover. Drop in 1-2 Scentsy Pods; 2 Pods increase fragrance strength for larger spaces. Close. Turn on.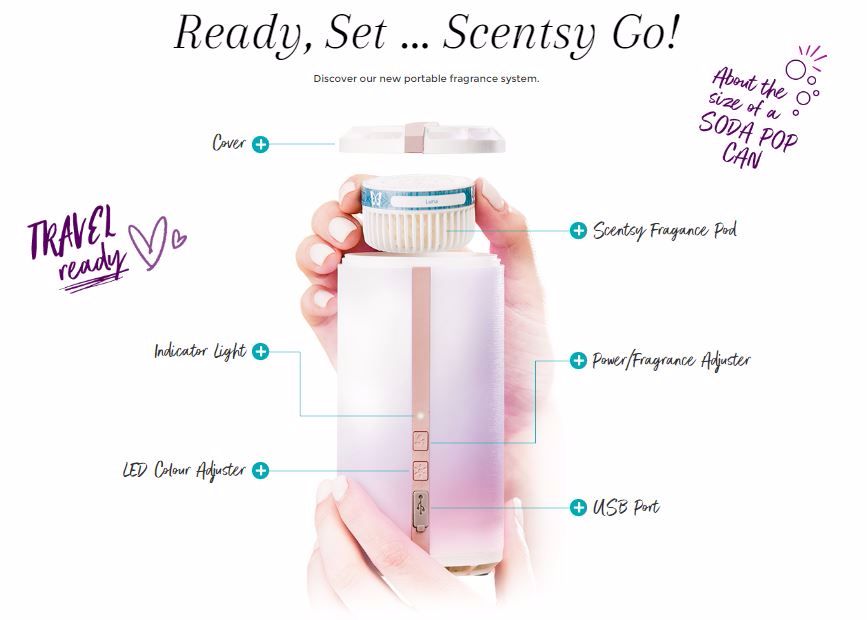 CONVENIENTLY CORDLESS
Runs on a rechargeable battery, so no outlet needed. Goes where you go - no strings (or cords) attached.
INSTANTLY FRAGRANT
An internal fan blows air through the Scentsy Pods, filling any small space with fragrance in seconds.
AMPLY PROTECTED
Enjoy this exciting new product with peace of mind. Scentsy Go is backed by our limited lifetime warranty.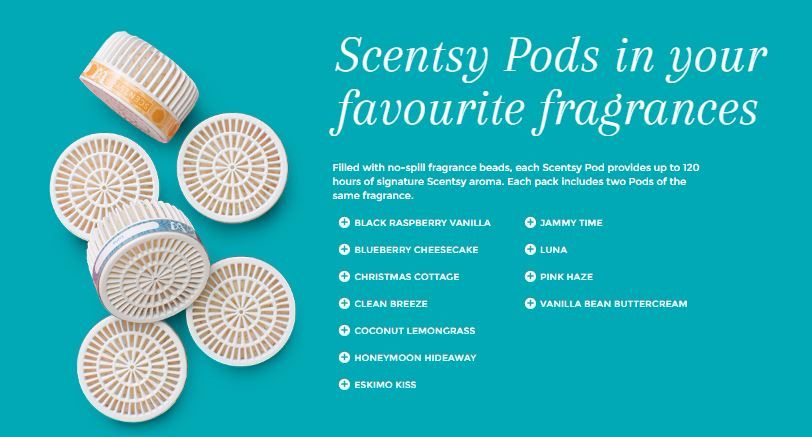 Scentsy Pods in your favourite fragrances
Filled with no-spill fragrance beads, each Scentsy Pod provides up to 120 hours of signature Scentsy aroma. Each pack includes two Pods of the same fragrance.
BLACK RASPBERRY VANILLA
BLUEBERRY CHEESECAKE
CHRISTMAS COTTAGE
CLEAN BREEZE
COCONUT LEMONGRASS
HONEYMOON HIDEAWAY
ESKIMO KISS
JAMMY TIME
Discover Scentsy GO here by watching the video showing how adaptable and portable this delivery system really is!
This is a must have fragrance delivery system!
Would you love to know when this new fragrance system becomes available? Request an notification email here to stay informed.