EBay Scentsy / Prohibited Purchasing / Do NOT Buy Scentsy Off EBay!
Posted on
Scentsy Consultants are not permitted to sell on EBay or any other marketplace such as Amazon. Therefore, if you purchase a Scentsy Warmer or Diffuser or any other product from either of those outlets you are not guaranteed they are authentic Scentsy products and correct wattages for your region and may not work! Not only are you chancing wasting your money you are also voiding any warranty available for defects for the lifetime of the product.
You may think you are getting a great deal? Think again. There are so many reasons why you should not buy from eBay…
Prohibited Purchasing
Our consultants are not permitted to sell on eBay and amazon or any other selling site like online marketplaces.
Voids warranty
Scentsy consultants are only allowed to provide customers with brand new and authentic products which come with a lifetime manufacturer warranty against defects. If you buy on eBay regardless of whether the warmer is promoted as brand new or used you will NOT be covered with a warranty. You WILL NOT receive any type of warranty with your products. In order to qualify for this lifetime guarantee, you must have a valid order number from an authorised Independent Scentsy Consultant, which you will of course not get if you purchase via EBay. When you place a purchase through my website you will receive a confirmation email which you can use as you warranty.
MY SCENTSY WEBSITE IS AN APPROVED SCENTSY WEBSITE WITH THE CORRECT 'APPROVED SCENTSY WEBSITE LOGO' PROVIDED TO ME BY SCENTSY CORPERATE. (CLEARLY POSTED TO THE RIGHT OF MY SITE)
If you wish to buy Scentsy products online, please ensure the site you wish to purchase from contains this logo and the logo is visible on the website for your own peace of mind. Buying from an approved Scentsy website you are covered with your defects warranty.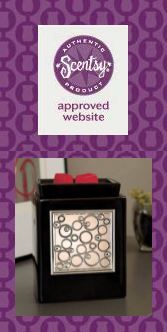 Different wattages will not work
When buying on EBay each listing does not mention different wattages within our warmers for different countries and regions. Please be aware that in Europe our Scentsy warmers are designed differently to meet with the European Regulations. In most of our UK warmers we do not use light bulbs, our warmers are fitted with heating elements inside the warmer to gently warm the wax, we use low watt hotplates (apart from the light bulb collection which is specifically designed using our own regions wattages within the bulb). We often have customer emails stating they have purchased a Scentsy warmer on eBay and it will not work, this is because if they have purchased on eBay and the warmer is specifically designed for another European country and region it will have a different wattage and will not work, it may well be that it is a bulb design warmer specifically designed for other regions and the bulb will blow. Unfortunately in this this situation there is NOTHING we can do about it if you purchased the product from eBay you are not covered for anything as it is a Prohibited Purchase. If you do purchase another regions warmer the warmer will fail as soon as you plug it in. This will end up costing you more than buying from a Scentsy website direct. It's that old saying… 'If you buy cheap you buy twice'. You may think you are getting a great deal and maybe saving a pound or 2, however you are only saving on a product that will not work with our wattages.
AT SCENTSY WE PRIDE OURSELVES IN OFFERING SAFE AUTHENTIC PRODUCTS FOR YOU TO SAFELY SCENT YOUR HOME. HOWEVER IF YOU BUY OFF EBAY WE CANT GUARNTEE YOU ARE BUYING SAFE PRODUCTS SPECIFICALLY DESIGNED FOR YOUR OWN REGION.
Why end up paying more for your Scentsy products?
You may see ebay as being somewhere you can buy cheap products, however that is not always the case, on review of ebay products being sold and sent to our dedicated team for review we have come across some outrageous prices! We have seen many £33 warmers being auctioned for up to £40 plus! Why pay more when you can pay the correct price along with a full warranty from an approved Scentsy website? All listings currently listed on ebay are being watched by our dedicated team due to prohibited selling and will be taken down. You may find yourself bidding on a product and the listing will become no longer available due to the listing being removed for breaching Scentsys selling policies and procedures.
IF YOU DO WISH TO SAVE YOURSELF A COUPLE OF POUND ON AUTHENTIC SCENTSY WARMERS WE HAVE A GREAT RANGE OF COMBINE AND SAVE OFFERS THAT WOULD COST YOU MUCH LESS THAN BUYING PRODUCTS SPEREATELY! IN ADDITION TO OUR GREAT COMBINE AND SAVE BUNDLES WE ALSO HAVE SOME SALE PRODUCTS. ALL SALE PRODUCTS ARE BRAND NEW IN ORIGINAL PACKAGING AND COME WITH A WARRANTY! THESE PRODUCTS ARE SIMPLY PRODUCTS THAT ARE NO LONGER IN THE CURRENT SCENTSY BROCHURE AND ARE AVAILABLE TO PURCHASE AT A CHEAPER PRICE.