Scentsy Candle Warming Systems
Posted on
luxury Scentsy Warmer Candle systems and accessories.Scentsy Warmers are beautiful, versatile and designed to express your personal style. Melt our specially formulated wax with the heat of a low-watt lightbulb or heating element to safely fill your space with fragrance — not flame, smoke or soot. Available in more than 100 designs, there's a Warmer to suit every taste and space!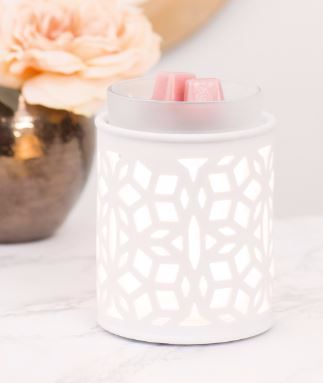 Types of Warmers:
WARMER
Our traditional Warmers melt wax with the heat of a low-watt lightbulb or heating element and make a distinct style statement in your home.
ELEMENT WARMER
Element Warmers feature a heating element to safely warm wax without illumination. Great for bedrooms or other spaces where you want fragrance, but no glow.
WARMER + WRAP
Decorative Wraps encircle a simple porcelain Warmer and are sold with a Warmer or separately. When on, light shines through to create mesmerising patterns. Swap out the Wraps for style versatility!
LAMPSHADE WARMERS
Lampshade Warmers use the heat of a 40-watt lightbulb to melt Scentsy wax. Replacement bulbs are available for purchase! This is a perfect opportunity to offer great customer service — everyone needs a lightbulb eventually!
Different Warmer styles are available in a variety of finishes.
CRACKLE GLAZE C
This crackled glaze gives the Warmer a distinct, aged look.
GLOW G
Crafted of porcelain or glass that glows from within when lit.
HAND PAINTED H
Finished with hand-painted accents, carefully and individually applied.
REACTIVE GLAZE R
One-of-a-kind Warmers created with a reactive-glaze process that gives each piece a handcrafted look.
HAND PAINTED + REACTIVE GLAZE H®
These Warmers combine a reactiveglaze finish with hand-painted accents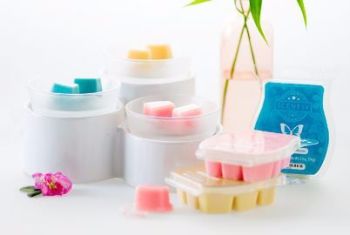 Features & BENEFITS:
• SAFELY WARMS SCENTSY BAR WAX with a low-watt lightbulb or heating element.
• FIVE distinct finishes.
• MODERN AND CLASSIC DESIGNS to suit every decorative taste, including a collection for kids.
• DIY designs CAN BE PERSONALISED to reflect your creativity and individual style.
• Certain styles can be COMBINED WITH DECORATIVE WRAPS for a beautiful, illuminated scene.
• LIFETIME REPLACEMENT WARRANTY against manufacturer's defects.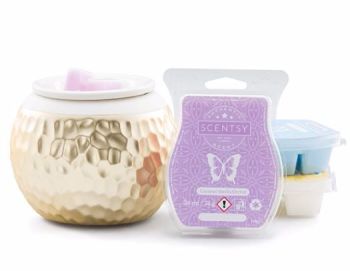 KEY DIFFERENTIATOR
Meticulously crafted, high-end designs are available at every
price point!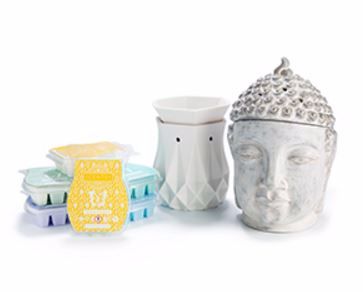 TREND ALERT
Cocooning: More and more people are choosing to stay HOME — for work, for play and for family. They're transforming their living spaces into cosy sanctuaries to maximise their comfort and express their style, including unique home décor and home fragrance.

DID YOU KNOW?
Scentsy Warmers are designed at our home office in Meridian, Idaho, and manufactured in China. Why China? Many of the raw materials used to produce our Warmers can only be found there. China is also home to some of the world's finest craftsmen, who use time-honoured methods passed down through generations to ensure the most beautiful result.

HOW IT WORKS:
Plug it in.
Add one or two cubes from a Scentsy Bar to the Warmer dish...
Turn it on.
Enjoy!