Mothers Day One Off Gift Bundle 2017
Posted on
Scentsy Special offers - Mothers Day One Off Gift Bundle Offers! What better way to treat that extra special mum than with a gift of Scentsy! Fill her world full of stunning Scentsy fragrances designed to create memories through fragrance. We have 4 amazing one off Scentsy gift bundles for you to treat your mum for less this Mothers Day.
Dazzle her with a Mum's Day bundle, featuring 3 FREE Scentsy Bars! Mothers Day gift bundles include 3 FREE Bars, while supplies last
Let us help you make this Mothers Day the best yet with oh-so-convenient, hand-picked gift bundles. Hassle free and easy to order without having to worry about picking the fragrances yourself!
But be sure to order by 16 March to get everything in time for Mum's Day!*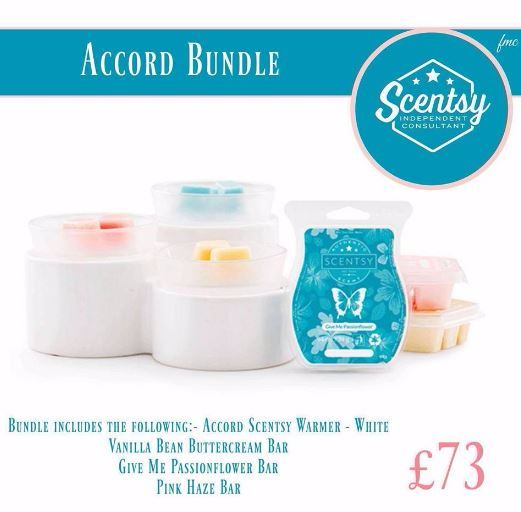 ACCORD MOTHERS DAY BUNDLE SCENTSY
Accord Warmer (in white), plus these FREE Scentsy Bars
· Vanilla Bean Buttercream
· Give Me Passionflower
· Pink Haze
Our accord 3 in one combination warmer is unique and is designed to warm 3 fragrances at once as a mixology allowing you to combine all of your scentsy fragrances and once and warm them together to create your very own personal fragrance. This neutral warmer will match any decor or interior design.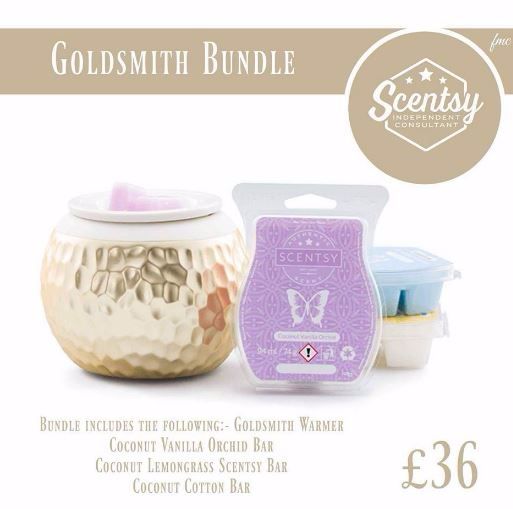 GOLDSMITH BUNDLE MOTHERS DAY
Goldsmith Warmer, plus these FREE Scentsy Bars
· Coconut Vanilla Orchid
· Coconut Lemongrass
· Coconut Cotton
Glamorous and elegant, consider it a statement piece for your nightstand or console. Porcelain with a hammered-effect, metal-plated finish.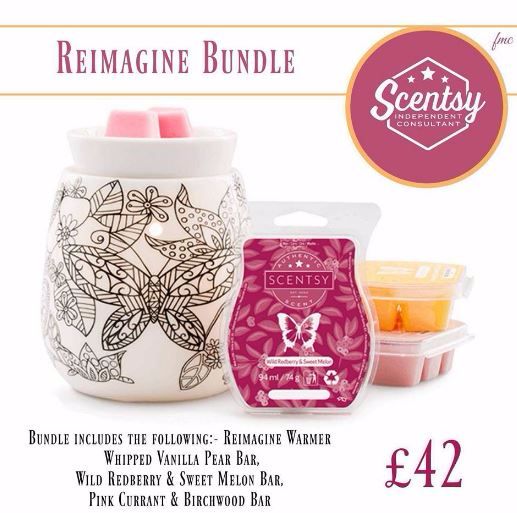 REIMAGINE MOTHERS DAY BUNDLE SCENTSY
Reimagine Warmer, plus these FREE Scentsy Bars
· Whipped Vanilla Pear
· Wild Redberry & Sweet Melon
· Pink Currant & Birchwood
Scentsy colouring warmer, Reimagine is a huge hit with hundreds already sold. Colour your warmer with sharpies, remove with rubbing alcohol and colour again. Adult colouring is trending and very popular. Whether your mum loves to colour or loves to get creative with the kids, this colouring in Scentsy warmer is great for those who love to be creative and make their own creations alone or building their creation with loved ones.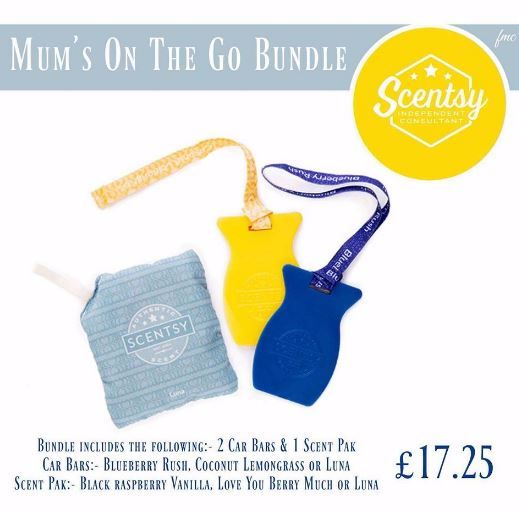 MUMS ON THE GO BUNDLE SCENTSY MOTHERS DAY
On-the-Go Bundle, save 25%!
Choose TWO of these Scentsy Car Bars:
· Luna
· Blueberry Rush
· Coconut Lemongrass
Then, choose ONE of these Scent Paks:
· Luna
· Black Raspberry Vanilla
· Love You Berry Much
Love what you see? Don't wait! Scentsy Mothers Day bundles are only available while supplies last. This promotion is available in My Scentsy Shop Online
*If you order by this deadline, we can guarantee your order will leave our distribution centre in time to make it to you in time for Mother's Day. We set these dates based on typical delivery times reported to us by postal carriers. Scentsy can't be responsible for weather, carrier issues or other delays beyond our control.