New Scentsy Bar Fragrance Releases / Shop New Scentsy Bars
Posted on
We have some amazing new Scentsy Bar Fragrances you just won't be able to resist! Our fragrances include floral, fruity, fresh, clean & summer scents for you to warm and enjoy to fragrance your space. Read these stunning new Scentsy Bar fragrances Descriptions and shop online.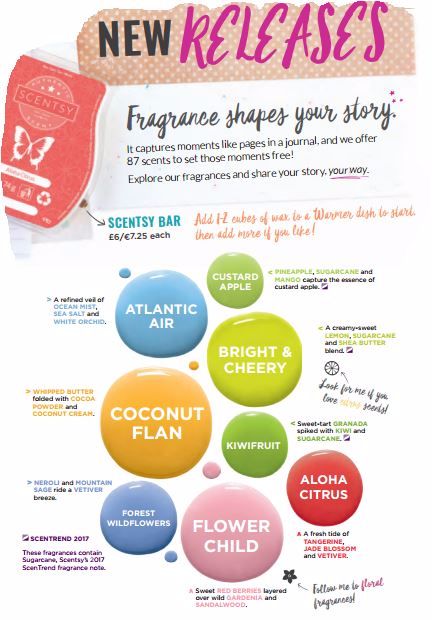 ATLANTIC AIR SCENTSY BAR -
A refined veil of OCEAN MIST, SEA SALT and WHITE ORCHID.
KIWIFRUIT SCENTSY BAR -
Sweet-tart GRANADA spiked with KIWI and SUGARCANE.
COCONUT FLAN SCENTSY BAR-
WHIPPED BUTTER - folded with COCOA POWDER and COCONUT CREAM.
BRIGHT & CHEERY SCENTSY BAR -
A creamy-sweet LEMON, SUGARCANE and SHEA BUTTER blend.

ALOHA CITRUS SCENTSY BAR -
A fresh tide of TANGERINE, JADE BLOSSOM and VETIVER.
FOREST WILD FLOWERS SCENTSY BAR -
NEROLI and MOUNTAIN SAGE ride a VETIVER breeze.
CUSTARD APPLE SCENTSY BAR -
PINEAPPLE, SUGARCANE and MANGO capture the essence of custard apple.
FLOWER CHILD SCENTSY BAR -
Sweet RED BERRIES layered over wild GARDENIA and SANDALWOOD.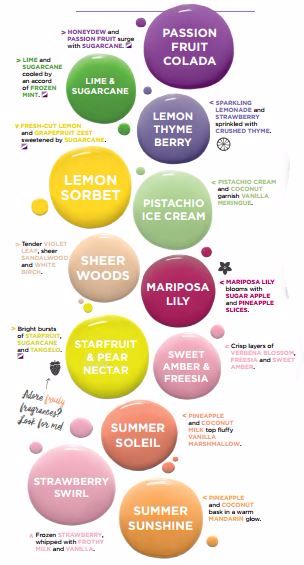 PASSION FRUIT COLADA SCENTSY BAR -
HONEYDEW and PASSION FRUIT surge with SUGARCANE.
LIME & SUGAR CANE SCENTSY BAR -
LIME and SUGARCANE cooled by an accord of FROZEN MINT
LEMON THYME BERRY SCENTSY BAR-
SPARKLING LEMONADE and STRAWBERRY sprinkled with CRUSHED THYME
LEMON SORBET SCENTSY BAR -
FRESH-CUT LEMON and GRAPEFRUIT ZEST sweetened by SUGARCANE.
PISTACHIO ICE CREAM SCENTSY BAR -
PISTACHIO CREAM and COCONUT garnish VANILLA MERINGUE
SHEER WOODS SCENTSY BAR -
Tender VIOLET LEAF, sheer SANDALWOOD and WHITE BIRCH.
MARIPOSA LILY SCENTSY BAR -
MARIPOSA LILY blooms with SUGAR APPLE and PINEAPPLE SLICES.
STARFRUIT & PEAR NECTAR SCENTSY BAR -
Bright bursts of STARFRUIT, SUGARCANE and TANGELO
SWEET AMBER & FREESIA SCENTSY BAR -
Crisp layers of VERBENA BLOSSOM, FREESIA and SWEET AMBER.
SUMMER SOLEIL SCENTSY BAR -
PINEAPPLE and COCONUT MILK top fluffy VANILLA MARSHMALLOW.
STRAWBERRY SWIRL SCENTSY BAR -
Frozen STRAWBERRY, whipped with FROTHY MILK and VANILLA.
SUMMER SUNSHINE SCENTSY BAR -
PINEAPPLE and COCONUT bask in a warm MANDARIN glow