Scentsy Diffuser offer 2016
Posted on
Buy any new Scentsy oil diffuser in August and get yourself a FREE Scentsy Diffuser shade worth £55 completely free! Choose from our Scentsy shades Evoke or instill for your free Scentsy Diffuser shade. Buy yours now and shop online to get this great Scentsy offer. Offer only available until the 31st August 2016 or while stocks last. Shop Scentsy Now here at Wick Free Scented Candles.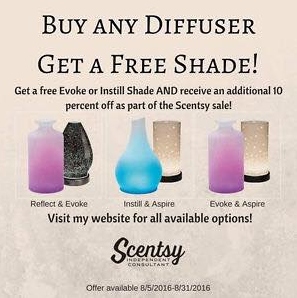 If that's not enough this month you will get an additional 10% off purchasing your Scentsy diffuser! The usual price for our world class Scentsy diffuser is £144, this months price is £129.60! Grab yours now while you can.
These amazing diffusers are currently the most advanced diffuser on the market worldwide!
Check out my website to find out why our Scentsy Oil Diffusers are the most popular around!