Join Scentsy – Become A Scentsy Consultant – Sell Scentsy – Join Today!
Posted on
Join Scentsy - Become A Scentsy Consultant - Sell Scentsy - Join Today!
When you join Scentsy as a Scentsy consultant I will help and support you throughout your Scentsy business. You sell Scentsy wick free and scented products on your terms; you choose your own hours to fit Scentsy into your lifestyle. Joining Scentsy and becoming a Scentsy Consultant is an exciting opportunity not only do you have the chance to work from home as a consultant, you have the opportunity to meet new people, share amazing Scentsy products and earn all expenses paid trips to holiday destinations.
So many people are undecided whether selling Scentsy is right for them. I would advise you to take the leap and join! You have nothing to lose! When you join Scentsy you purchase the Scentsy starter kit which is full of amazing products and testers and works out much cheaper than buying all the products at the RRP. If you decide in the future the Scentsy opportunity isn't right for you, you still have all these amazing products to fill your home with amazing fragrances.
Join me selling Scentsy and step into a fragrant future. Joining Scentsy opens so many opportunities for you and your family, earn extra money, work hours to suit you, free up time to spend more time at home with the kids, become a leader as well as a seller. You choose how much you earn, you choose the effort you put into your Scentsy business. The earning potential is unlimited and Scentsy offer some amazing rewards and recognition along the way.
*The Scentsy starter kit costs £84 + £9 shipping (€99 + €10 shipping) and has everything you need to launch a successful Scentsy business. Find out what's in the amazing Scentsy starter kit here.
*Below is an example of a typical scentsy starter kit, please note contents may vary due to stock levels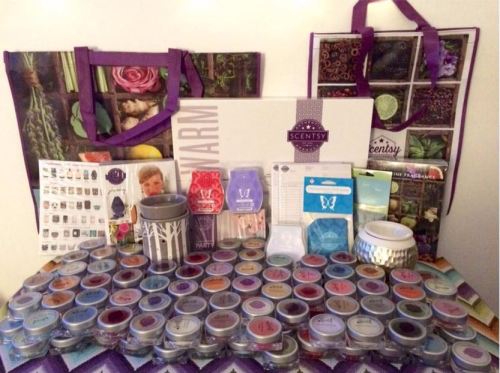 Get started selling Scentsy today - Join my team to start your Scentsy journey.

*If you decide to join Scentsy you will be asked for a tax ID you need either a avlid national insurance number or passport number to confirm you are setting up a valid scentsy account. Please have those details to hand when filling out the enrollment form. If you need help call me on 07943730454.
There are many reasons why people decide to join Scentsy as a Scentsy consultant.
Some of our new consultants already know and love the products and join Scentsy to simply place their own personal orders for friends and family to reap the rewards and earn free product credit and half priced items for placing their own personal orders.

Some consultants join to sell Scentsy as a hobby to earn an extra monthly income around a current job knowing Scentsy fits easily into their current lifestyle

Other consultants join to sell Scentsy around their current job to work towards building a strong business and making a career out of selling Scentsy so they can work from home permanently full time.

Some consultants are stay at home mums that like the opportunity to earn around looking after their children.
No matter what your reasons are for considering joining Scentsy as a consultant to sell Scentsy you are welcome to contact me for a friendly chat to discuss joining. Contact me by email here or call me on 07943730454.