Book A Ladies night - Scentsy Candle Party
Posted on
Book A Ladies night - Scentsy Candle Party - Earn Free Scentsy! Earn Free Scentsy By Hosting A Ladies night in Scentsy Party! Scentsy offer great rewards to hosts for hosting a qualifying Scentsy party. This is your chance to earn free Scentsy not to mention half priced products too! It pays to host a Scentsy party. How to earn free Scentsy - Host a Scentsy Home or Scentsy Basket party, book a Scentsy party at a location of your choice
You can also earn Scentsy rewrads buy placing a bulk Scentsy order with friends and family over £225 to earn free Scentsy and half priced items. Reap the rewards and earn your own Scentsy products free & half priced! Book a Scentsy party today for your chance to earn free Scentsy!

If you have got together with friends & asked them if they would like to purchase Scentsy call me with all orders totalling over £225. I will place your order manually to make sure you get to earn free Scentsy and half priced items for your efforts and have all Scentsy products delivered to one address.
Call me on 07943730454
Reap the Scentsy rewards in one simple & easy transaction!
Heres what you can earn...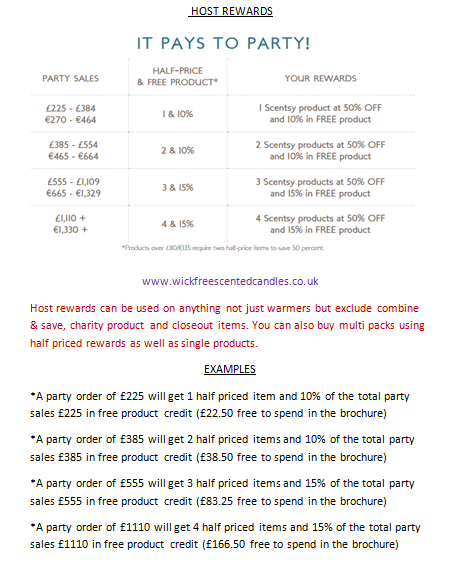 Scentsy wickfree - wickless electric candle warmers are designed to gently warm and melt our scented candle Scentsy wax bars from a low watt hotplate fitted inside our electric warmers to give off the ultimate candle wax experience. Prefect to treat yourself and your home or give someone as a special gift. There are a huge range of Scentsy ceramic electric candle warmers to suit any style or decor including themed Scentsy candle warmers, childrens Scentsy candle warmers, light up Scentsy candle warmers, Scentsy candle warmers with no lights. If you love scented candles, scented wax this is the place to be. You will fall in love with safe Scentsy products! Buy Scentsy UK Online here from my Scentsy website.
---