Wanted Scentsy Consultants UK Ireland Scotland Spain & Worldwide.
Posted on
Wanted - Scentsy consultants to join me selling and offering amazing products. This is your opportunity to sell wick free Scentsy candles and scented home fragranced products working from home working hours to suit you! I am looking for New Scentsy consultants in all areas and worldwide including UK, Ireland, Scotland, Spain, France, New Zealand & Austraillia. Be your own boss. Choose your own hours. Work around children or a current lifestyle. Starting Scentsy is easy. Simply enroll & purchase the Scentsy starter kit which has everything in it to get your Scentsy business off the ground. Scentsy send out your starter kit within 3-5 working days. When you join i will be in touch with you to officially welcome you and help and support you throughout your Scentsy journey. What do you have to loose? Joining Scentsy as a new Scentsy consultant may be the best decision you may ever make.
JOIN SCENTSY NOW - ENROLL AS A SCENTSY CONSULTANT HERE.
*When you are asked for your tax ID please use either your National insurance number or a valid passport number.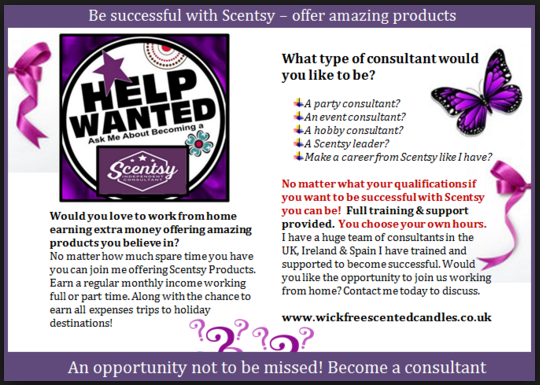 If you would like to discuss joining Scentsy as a consultant please feel free to contact me
---