Register Your Scentsy Diffuser
Posted on
Discover our Scentsy diffusers. Shop online UK. We offer a lifetime warranty with each Diffuser. You can buy our Scentsy Diffusers and register it within 6 months to validate your warranty. Choose from a stunning selection of Scentsy diffuser designs and shades. All Scentsy diffusers have 16 led lighting options and mist settings allowing you to choose your fragrance strength and lighting to match your mood. Scentsy diffusers are our most personal fragrance experience yet, providing a multi-sensory experience using light and mist. These stunning diffusers have become one of our most popular Scentsy fragrance products. Our Scentsy fans are going crazy for these world class ultrasonic diffusers. We are now allowing our Scentsy fans to buy any diffuser shade alone instead of having to purchase the whole Scentsy diffuser system again. When you buy a Scentsy diffuser and would like a change simply replace your existing shade with a new shade of your choice for a whole new look.
**If you would like a change of diffuser shade look in my scentsy shop for diffuser shades under the diffuser tab.
Once you purchase one of our Scentsy diffusers every diffuser comes with a lifetime warranty.
To claim your lifetime warranty you must register you Scentsy diffuser.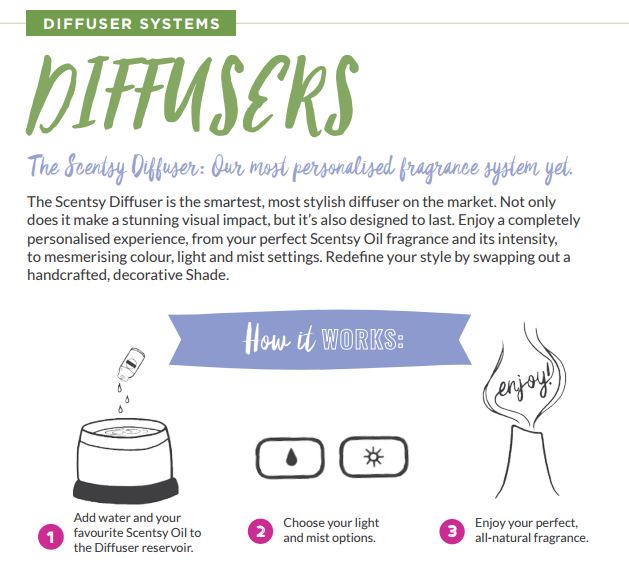 Elevate your fragrance experience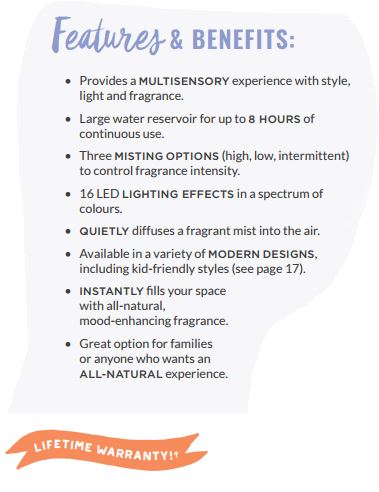 Scentsy Diffuser - Purchase one of our amazing world class ultrasonic cold mist techology LED Scentsy diffusers today. Our Scentsy home fragrance ultrasonic diffusers are created like no other. If you combine fragrance with light, mist and art you have one of our fab Scentsy diffusers. Not only are our Scentsy diffusers the worlds most advanced oil diffuser on the market, If you buy one of our fab Scentsy ultrasonic oil diffusers, all of our Scentsy home fragrance oil diffusers come with a lifetime warranty...
***However you must remember to register your oil diffuser to claim your lifetime warranty!
If you already own one of our fab diffusers you can register yours at
www.ScentsyDiffuser.com for your lifetime warranty.
If you dont already have one of our Scentsy ultrasonic oil diffusers you can
find out more about these fantastic world class products or shop online to choose your favourite style.

Our cold mist technology home fragrance oil diffusers are a must have this season, the world most advanced diffuser yet with 16 LED lighting settings and 3 mist options. Unique and elegant, Scentsy aroma oil diffusers change color and are the perfect decorative piece to have in your home.
If you would like to buy one of our amazing Scentsy oil diffusers you can
Buy Your Scentsy Oil diffuser from my online website, search my Scentsy Online shop for 'Diffusers' We have a great range of Scentsy Diffusers styles available.

We now offer Scentsy diffuser shades available to buy from my online Scentsy shop rather than having to purchase the whole new Diffuser system if you would like a change.
Check out the amazing range of diffusers and shades we have available.
Register your Scentsy ultrasonic oil diffuser here at www.Scentsydiffuser.com