Book A Scentsy basket Party County Durham or Hartlepool areas
Posted on
Take a Scentsy basket. Would like the chance to earn free products credit and half priced items by booking a scentsy basket, book a scentsy candle basket also known as a basket party, you can take the basket of demo products everywhere you go, show friends, family, work colleagues or anyone you come into contact with, i supply everything you need. A Scentsy candle basket party is your chance to sample products for yourself and your friends while on the go and reap the rewards. Contact me to discuss booking a Scentsy basket today. Call 07943730454.
I offer Scentsy baskets in a range of areas durham, sunderland, peterlee, horden, castle eden, wingate, station town, easington, hetton, thornley, wheatley hill, shotton, ferry hill, coxhoe, hesleden, crimdom, haswell, gilesgate, fishburn, fencehouses, elwick, dalton piercy, seaton, hartlepool, teeside and cleveland, no area is too far, however if I am unable to provide you with a basket I could always ask one of my team if they have a basket available in your area. We have a huge team of scentsy consultants all over the UK & Scotland. Please call me to discuss or email me [email protected]
If you would prefer to join my team to offer these amazing scentsy products again feel free to contact me to discuss.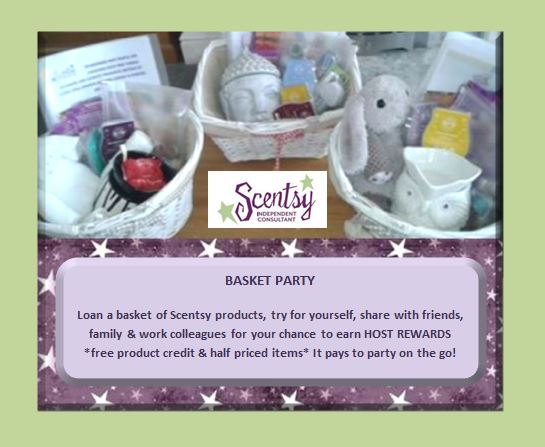 Scentsy host rewards are shown below...