Genuine Work From Home Opportunity
Posted on
Work from home with Scentsy fragrance a genuine work from home direct selling opportunity. Working from home as a Scentsy Fragrance consultant allows you to work around your current lifestyle working hours to suit you. As a Scentsy fragrance consultant you will be working for one of the fastest growing direct selling companies worldwide. Scentsy Fragrance is a Scentsy Family brand that offers a variety of home and personal fragrance products, including scented wickless candles and decorative ceramic warmers, which together provide a safer alternative to burning wicked candles. A wickless candle is a highly fragrant wax bar that is warmed to release fragrance into the air. Because the wax is gently warmed rather than burned, it can hold more fragrance oil than a traditional candle. And, because there is no flame, there is no smoke, soot, or lead. Scentsy wickless candles are a safer alternative to traditional candles. If you would like to take up the Scentsy fragrance direct selling business opportunity to work from home feel free to contact me to discuss or join Scentsy as a consultant here. You deserve to love your job!
Call 07943730454 if you would like to discuss the Scentsy fragrance direct selling opportunity to work from home.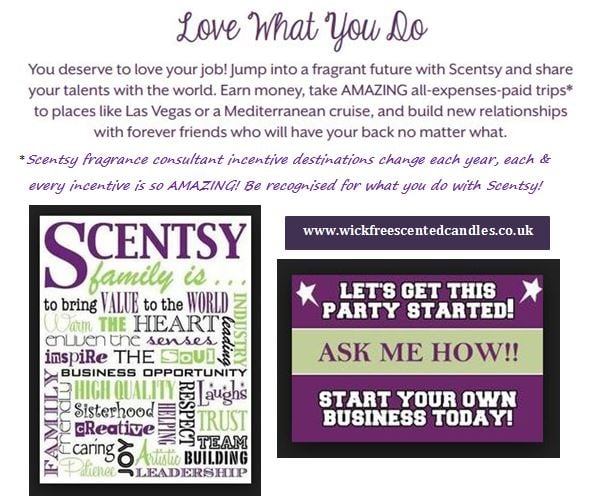 This opportunity is still available in 2017 with even more potential including earning all expense paid trips to holiday destinations.