The New huge 'supersized' starter kit scentsy!
Posted on
Wow! There truly has never been a better time to enroll as a Scentsy consultant. In february 2015 we have on offer an amazing starter kit... with not only one warmer, but 2! If that isnt enough, scentsy are also offering a double transition kit to get your business off to a fantastic start! All autumn and winter brochures & testers along with all the new spring/summer testers which will be released and the new brochures and business tools, this is amazing value for any new consultant wanting to build and grow their own Scentsy business working from home!
With this amazing value supersized kit, what do you have to loose? Join now to become a scentsy consultant!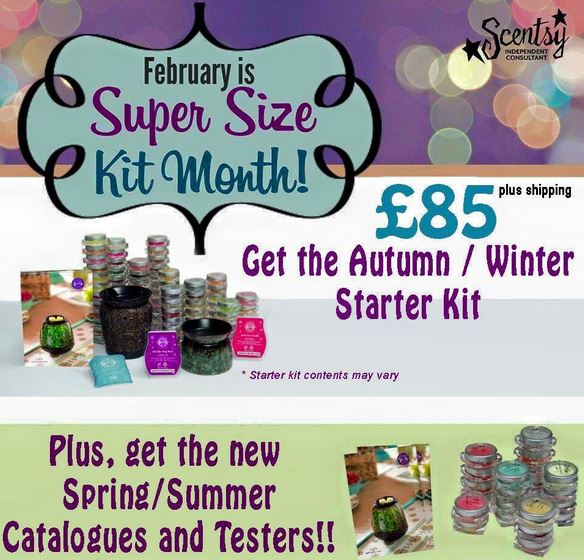 Kit includes:
contents may vary depending on stock levels...
The FEB SUPERSIZED Scentsy starter kit includes:
Party Tester Set Fall/Winter 2014 Full Set (OVER 80 TESTERS)
Party Tester Set Spring/Summer 2015 Transition Set (OVER 20 TESTERS)
Large Recyclable Bag (3 Pack)
Scentsy Customer Order Forms
Scentsy Consultant Guide 2014/2015
Scentsy Print Your Own Label
Product List Spring/summer '15 (single pad)
Scentsy Quick Start Guide Spring/Summer 2014
Scentsy 2014 -2015 Party Invitations
Scentsy Spring/Summer 2015 Scentsy Catalogues
Scentsy Autumn/Winter 2014 Catalogues
Scentsy Host Brochure 2014/2015
Scentsy Join Brochure 2014/2015
***(NOW OFFERING 2 FULL SIZED WARMERS INSTEAD OF ONE!)***
Scentsy Warmer PREMIUM (FULL SIZED WARMER WORTH £39!)
2-pin or 3-pin Cord Black (depending on country)
Scentsy Warmer ELEMENT (FULL SIZED WARMER WORTH £28!)
2-pin or 3-pin Cord White (depending on country)
Scentsy Bar (Quantity 3) (WORTH £5.50 EACH!)
Scent Pak (WORTH £7.75)
This is amazing value!
Click here to join Scentsy as a consultant!