Black Zebra Scentsy Warmer - No lights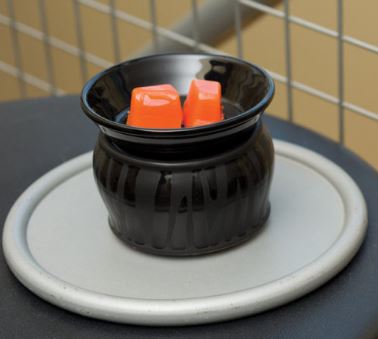 Our Black zebra Scentsy warmer is a dramatic take on traditional zebra, this all-black warmer showcase contrasting shiny and matte stripes. If you want to show off your superb personal style through your home's decor, put our new Black Zebra Element Scentsy Warmer on display.
A great buy for those looking to start their Scentsy collection. Our small black zebra warmer is part of our Scentsy element range simple and plain without illumination. If you want all the benefits of a Scentsy warmer in a more discreet package maybe to fit into a smaller space or office area, or if you simply prefer a warmer without lights this is the option for you. This cute, bold and stylish warmer is a two piece warmer and comprised of the bottom Scentsy system and the top warming dish, allowing you to place the Scentsy bars into the top dish to warm your favourite fragrance. Wax can easily be removed from our two piece warmers by placing cotton wool into the top dish to soak up any melted wax inside of having to pour from the warming system. This is a simple method to keep Scentsy warmer looking brand new rather than having to pour melted wax.
Our element warmers are a great warmer for those who have never tried Scentsy and would like to give Scentsy a go, not to mention being budget friendly too. These smaller more compact warmers are perfect for smaller spaces including bedrooms on a night where you won't want light, offices, hallways or anywhere where you would like a touch of Scentsy fragrance without illumination!
Our Scentsy warmers are completely different to a candle and a much safer alternative. These elegant hand crafted ornaments are fitted with a hot plate and designed to gently warm scented wax from the top dish, allowing you to fragrance your space discreetly. All of our Scentsy candle warmer systems are plug in and come in different colours and styles to suit any taste or decor. Each individual Scentsy warmer comes with a 3 year manufacturer guarantee.
Our Scentsy £28 element warmers are great value, however if you are buying more than one warmer and would like to combine warmers with some wax bars we can get you great savings for buying 2 Scentsy element warmers (£28 warmers) and 6 Scentsy wax bars. You would usually pay £5.50 per bar (6 at our RRP without using combine and save would cost £33) and you would pay £56 for 2 element warmers. If you decide to use our combine and save options you can purchase 2 element warmers (mix and match) and 6 Scentsy bars for only £78! Saving you £11 compared to usual RRP prices. You can also mix and match Scentsy bars with combine and save.
To use our combine and save option please visit my Scentsy shop and look for the combine and save tab under the specials section. This option allows you to add product to your basket showing the offered discount.