Sell Scentsy - Simple & Easy to Join with immediate start! Join Scentsy
Select your starter kit and start earning with Scentsy.
Our Scentsy starter kits are amazing to invest in yourself and earn with Scentsy. Join Scentsy to simply earn free and half price items while earning an inccome or work full time, or part time, the choice is yours. The Scentsy consultant opportunity is open to both male and females 18 plus years of age. To get started simply sign up, select your kit, enjoy the rewards and earn. As soon a you become a Consultant you have access to your workstation. Our great value starter kits are designed to help you build your business & sell Scentsy and earn on your terms.
What can you do with the Scentsy starter kit?
What you do with your Scentsy starter kit once you have purchased it is your choice. You can use the products for yourself to save on retail price, start a hobby as a Scentsy consultant simply to earn extra money and use up some free time, make some extra cash for the savings you deserve to have extra disposable income, chose to join so you never have to pay full price for your own Scentsy products, make a start on a healthy long term regular income by working part time or full time hours you chose, place friends and family orders to award friend and family with free and half price discounts on Scentsy products, place order for work collegaues just to earn a little extra and reap the rewards yourself. There is so much potential in our Scentsy starter kits, the choice is yours how you would like to use you stater kit to your advantage. Commission & bonus earnings are paid once montly. Where else could you start a successful earning opportunity for such a low cost? The beauty of Scentsy you are not tied in, if you decide the opportunity is not right for you, you can simply leave you account to go inactive and you will terminate after 4 months of inactivity.
In addition to monthly earnings, free & half priced Scentsy products and great bonuses you also have the opportunity to earn all expenses paid trip to popular holiday destinations! Scentsy set some fantastic incetives for consultants to achieve while earning.
Our Scentsy starter kits are unreal, these amazing starter kits include everything you need to start earning with Scentsy. Joining Scentsy is easy, simply sign up, select & purchase your kit, then learn and earn as you go to increase your current income.
Now is the time to enrol and get started with Scentsy. Join to earn a long term regular income selling amazing scented products. We offer a fantastic huge starter kit for only £85 plus £6 shipping. Your Scentsy starter kit has everything you need to start a successful Scentsy business. Sell Scentsy as a hobby or choose to work part or full time the choice is yours. Earn Free and half priced Scentsy on all qualifying orders in addition to earning a monthly income and bonuses.
Sign up & join Scentsy to get started today.

Select your starter kit and sign up today.
Scentsy is now offering SUPERSIZED starter kits! Compared to the usual one warmer the kit used to offer, they are now offering 2 types of warmers in the £85 starter kit at no extra cost (One Scentsy Warmer and one Mini Scentsy Warmer) Our £85 kits are amazing value!
When you sign up and join Scentsy, Scentsy send you your Scentsy Starter Kit .Your Starter Kit has everything in it you need to host a successful launch party (The first party to get your business off the ground). Your Scentsy starter kit includes a range of business materials, including brochures/catalogues, 2 warmers as demonstration products, (previously only one warmer used to be supplied) Wick Free Scented Candle wax bars (Scentsy bars), the full consultant guide, host and join brochures, as well as other demonstration products and materials, and of course the full set of scent testers for the current brochure. All you need to do is add is your passion for scentsy products and share products with others, the key to Scentsy is to demonstrate our products, once customers see the safety of Scentsy and smell the amazing fragrance and quality of the products they tend to fall in love. In previous years the Scentsy starter kit was offered to all new Scentsy consultants at the same price of £85 plus £6.00 shipping, however previous starter kits only contained one Scentsy warmer and much less demonstration products. It had everything in it to get your Scentsy business off the ground, but as the years have gone on Scentsy offer a huge, bigger and better starter kit... now containing 2 Scentsy warmers! All for the same price as the previous years kit! Scentsy just gets better! There is no better time to join Scentsys fantastic direct selling opportunity. Start your Scentsy business today and join the journey.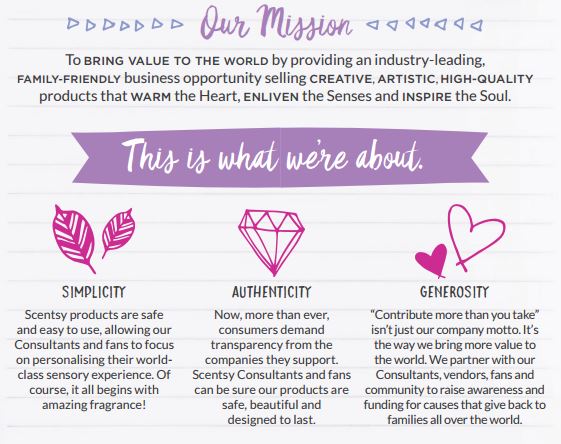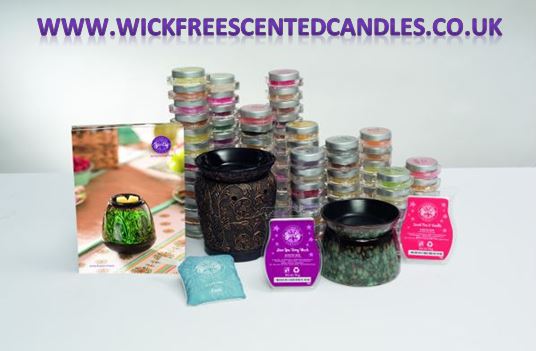 ---
The Scentsy Family Compensation Plan - Scentsy Pay Table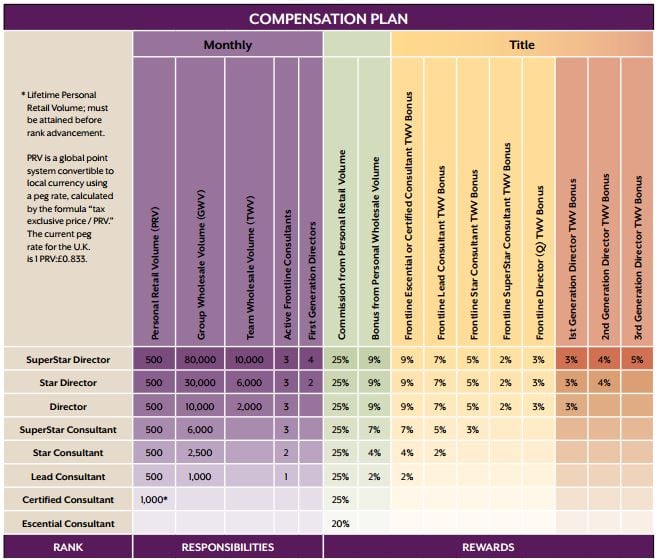 *Personal Retail volume must be attained before rank advancement.
Above is an example of the pay structure Scentsy has to offer all consultants old and new. Scentsy offer a great compensation plan and our pay is commission based paid on a monthly basis. You can earn between 20% to 25% commission on your sales and up to 9% bonus from your downline. There is no pressure to recuit and sponsor new consultants, if you choose to sell and decide selling is for you without recruiting or sponsoring that is fine, you build your Scentsy business the way you want to, you choose what you wish to earn and how you wish to work your business. If you join my Scentsy team, I'm happy to help and support you throughout your Scentsy journey, offering both support to you and suggestions to help within your Scentsy business.
Every new consultant that joins Scentsy has a different reason for wanting to join, I'm happy to work with you to find out your 'why' (your reason for joining) and help you achieve whatever it is you want from your Scentsy business. Scentsy have many incentives set to you right from the day you join, however it is totally optional whether you wish to aim for any incentives set.
Are you one of those people that want to join, but you are unsure that joining Scentsy is right for you?
I always recommend taking the leap and joining. The starter kit is such great value, once you give the opportunity a go, if you feel the opportunity isn't right for you you can terminate your scentsy account at any time. All Scentsy ask is that if you wish to stay active as a consultant, that you place one minimum order of 200 PRV (Personal retail volume - Which is the points system Scentsy use) this is approx £245 withtin a 3 month period. You are not tied in or contracted you can leave at any time. Many new consultants join to simply place minimum orders to earn commission to just sell to friends and family. If you decide a Scentsy business isnt for you, you still get to keep all the fantastic products your recieved in your starter kit. Alot of new consultants feel its a great value kit compared to buying all the products individually. You simply can't loose out. As well as recieving the fantastuc starter kit from Scentsy, You are also provided with your very own Scentsy website. All new consultants that join are provided with a 3 month FREE subscription, which offers you plenty of time to decide if the Scentsy business is right for you.At the end of the three months it is only £10 a month to continue your subscription. You are not tied into you Scentsy website you can choose to subscribe or turn off your subscription at any time.
The Scentsy website provided to you enables you to work your Scentsy business in many different ways, without you having to be technicle yourself, its completely designed and set up for you, all you need to do is provide your new Scentsy account with your chosen website details when you join. Customers can place orders online and Scentsy deal with all requests from online sales and dispatch products directly for you. All you need to do is provide customers with your website address.
There are other great functions available for you use to with your Scentsy website subscription..
Opening a party online...
You are able to open a party online to allow anyone not living local to still join the party by going through your website to place an order and have products sent to their home. Opening a party online allows the host still earns the rewards from the sale when they are not present at the party.
Sponsoring and building a team...
If you wish to sponsor, mentor and build a team it would be advisable to keep your subscription for new consultants to join your team through your website. The on off function allows you to turn on/off your subscription at any time, so if you are unsure if you wish to build a team you could turn on your subcription at any time if you decide the time is right for you. If you are simply joining as a consultant to just sell Scentsy alone without sponsoring you may decide you do not wish to keep your website.
When you join and become a consultant, you choose how to sell, you choose what hours you wish to work your business and what effort your want to put in. I launched my Scentsy business by showing the products to friends and family, offering friends, family and friends of friends the chance to take a demonstration basket to view products and see products for themselves. I offered local parties and attended local events and charity nights etc, I handed out brochures and information to local businesses and offered to leave a basket of demonstration products for them to share with friends and customers. (You can build a demonstartion basket by using everything provided to you in your Scentsy starter kit). By sharing products locally and through events i have estabilished some loyal customers and gained great friendships. Everyone has a different circle of friends and family, so be sure to share Scentsy products, the party opportunity, and the opportunity to become a consultant and join Scentsy. If the party option or event option is not for you, or if you find yourself short of time you can still earn with Scentsy by offering a basket of demonstartion products, we call this a basket party! With a Scentsy basket party customers get to try Scentsy for themself, share products with friends and family to collect orders for their chance to earn free and half priced Scentsy. The basket party option is a great option for new consultants joining that may not find the time to be able to do home parties.
There is no need to do door to door sales, as Scentsy tends to sell once demonstrated, of course if you wish to leaflet drop, thats a personal choice, There are no minimum party requirements, you can place individual orders as well as bulk party orders, you do not need to host parties if you don't feel comfortable with this, sharing products simply with friends and family can be enough to earn a little bit extra money you may need, with scentsy there are no target areas or territory areas, you will not be told to stick to a certain area, every consultant has the same opportunity to sell as a consultant. There are no sales targets with Scentsy unless you decide to aim for certain target set and outlined in your consultant guide, which is provided in your starter kit. (targets are a personal choice and there will be no pressure to aim for targets). You choose how to build your business on your terms. Scentsy do ask for all consulttants that join Scentsy as a consultant to simply keep their account active and in good standing, this is simply by placing at least one order of 200 PRV (personal retail volume points - outlined in your consultant guide in your Scentsy started kit) This works out at approx £245 for a minimum order in a 4 month period to keep your account active to stay as a consultant.
Scentsy is a fun and exciting business to be in, with new products, fragrances and limited edition products being released there is always something for consultants to keep customers happy and excited. As well as keeping customers excited there is always great consultant incentives to keep all consultants excited, providing you the chance to earn fantastic intentives simply by building your business. Whether its a carribean cruise, all expenses paid trips to holidays destinaions such as greece and tenerife etc, Scentsy always put on fanastic incentives to to give us a goal. Incentives are open to new consultants and existing consultants.
Team support and training
Once you join my team and become a Scensty Consultant, you will receive full support from me and also other consultant within our wick free divas Scentsy team, We have consultants within our team from Spain, Ireland and the UK and we are always looking to expand in all areas for new Scentsy consultants to join us to offer Scentsy products and share the love. We have a fantastic support network, we get together on facebook to help and suppport each other by using secret team groups, you will never feel alone when you join scentsy as a consultant, there is always someone happy to help and support you throughout your Scentsy journey. In addition to team training Scentsy also offer weekly world class training. (you can join the trainings by logging in with details provided to your by email).
Telephone Support
In addition to our team support we also have amazing support from our telephone support team, provided to us from Scentsy to help and support us with whatever we may need. An added bonus is that our telephone support is a FREE support number! Whether you have a query about an order, or something you are unsure about, all consultants have telephone access and email access to our Scensty support team.
Your Scentsy Consultant Workstation
As soon as you have enrolled as a Scentsy consultant and joined our team, you are provided with a Scentsy worstation to place order, keep you up to date with everything new, provide you with great selling tools for marketing and also provide you with further business materials to help support your business, There are consultants trainings available on your scentsy consultant workstation to help point you in the right direct and give you help, hints, tips and support...
Your scentsy workstation is provided FREE when you become a consultant and continues to be FREE throughout your Scentsy journey. Making use of valuable selling tools through your scentsy workstation can give you Scentsy business a great boost and help motivate you and point you in the right direction. Whether you choose to search for new challenges, keep up to date with out of stock products, find out about new and upcoming products and promotions you can find everything you need using your Scentsy workstation. Theres also a large selection of marketing and business materials for you to use provided on your workstation.
Example Scentsy Starter Kit* Contents may vary depending on stock levels.
The Scentsy Starter kit... Example contents include...
Starter Kit Contents... AMAZING VALUE!
Alabaster Warmer (RRP £36)
Dream It, Live It, Love It Mini Warmer (RRP £24)
Shimmer Scentsy Bar (RRP £7.25)
Pink Haze Scentsy Bar (RRP £7.25)
Vanilla Bean Buttercream Scentsy Bar (RRP £7.25)
Luna Scent Circle (RRP £3.75)
Lenny the Lamb Scentsy Buddy (RRP £30.00)
Jammy Time Scent Pak (RRP £7.25)
Clothesline Washer Whiffs (16 oz./453 g) (RRP £14.50)
Autumn/Winter '18 Fragrance Testers (full set) (RRP £43.00)
New Consultant Guide
Quick Start Guide
Print-Your-Own Labels (1 pack of 10 sheets) (RRP £3.25)
Autumn/Winter '18 Catalogues (1 pack of 25) (RRP £10.50)
Customer Order Forms (1 pack of 100) (RRP £7.50)
Product Lists (1 pad of 50) (RRP £4.50)
Host/Join Brochures (1 pack of 25) (RRP £4.75)
Product Training Guide
Scentsy Mini Clipboards (RRP £9.00)
Catalogue Sacks (RRP £6.00)
Merchandise Sacks (RRP £11.25)
Mini Zip Sacks (RRP £2.25)
Scentsy Opportunity Folders (1 pack of 5) (RRP £4.75)
Scentsy Wax Molds (RRP £10.50)
Starter Kit Insulated Tote (RRP £25.75)
3-Pin Cord
Mini Warmer Base for Ceramic Mini Warmer
ALL OF THE ABOVE RETAILS AT OVER £280!
*contents may vary depening on stock levels.
Our Scentsy starter kit is great value!
Get started today, what do you have to lose?
The opportunity to join Scentsy is an amazing opportunity not to be missed!
When you are ready to get started and become a consultant you can JOIN SCENTSY HERE.

**If you do not live in the UK but wish to join my Scentsy team you will need to enroll under the correct country, please use the drop down menu when enrolling to choose your correct location.
When you join and start your new career with Scentsy, there is no need to wait for your starter kit to get started, When you enroll as a new team member I will be notified and will personally send you a welcome email with information on how you can get started while you are waiting for your starter kit to arrive. I will then provided you with access to our team support page on Facebook for extra help and support.
If you are unsure Scentsy is for you but would like to chat further about the Scentsy consultant business opportunity you are welcome to contact me for a friendly chat.
Click here to email me or call me on 07943730454
Dont delay joining Scentsy as a consultant, a year down the line, you may wish you had joined Scentsy today. Get started and join our amazing team of Scentsy consultants, Start a new career with Scentsy and let fragrance change your world. Step into a fragrant future.
---