Scentsy Evolve Oil Diffuser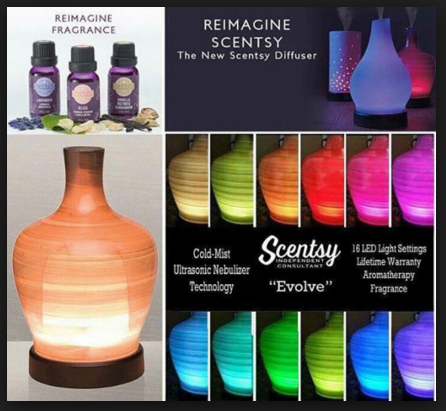 Scentsy Evolve Oil Diffuser LED Lighting Lamp - Scentsy Oil Diffuser - Buy Scentsy Diffuser Online here. Evolve Scentsy oil diffuser LED lamp - A world class product - Currently the most advanced oil diffuser on the market at the moment.
EVOLVE SCENTSY DIFFUSER
Be enlightened. Renew your soul with Evolve, a handcrafted, subtly striated glass shade to add another layer of aesthetic beauty to your perfect sensory experience. The Scentsy Diffuser features the worlds most advanced nebulizing diffuser to deliver your perfect fragrance experience instantly in a microscopic mist, with interchangeable decorative shades to complement and enliven your décor.
Features and benefits
The world's most advanced ultrasonic nebulising diffuser
Lifetime warranty
16 LED light options
The only diffuser offering interchangeable decorative shades to complement any décor
Delivers a consistent fragrance experience
High, low and intermittent diffuser modes give you complete control over the intensity and longevity of your fragrance experience
Customise your fragrance experience by adding more or less oil
Cold-mist technology allows you to enjoy Scentsy fragrance instantly without waiting
These amazing products can be used as a lamp to give off amazing colours and lighting when you do not wish to diffuse oil. They are a perfect piece to fit into any decor.

You can keep the lighting on rotating to rotate through all the colours, if you like a certain colour you can keep the light on a certain colour, you can have it on plain low, plain high or a plain candle flicker.

Scentsy Evolve Oil Diffuser LED Lighting Lamp - Scentsy Oil Diffuser - Buy Scentsy Diffuser Online. Buy Scentsy Evolve oil diffuser LED lamp from my online Scentsy UK website here