Scentsy Mini Warmers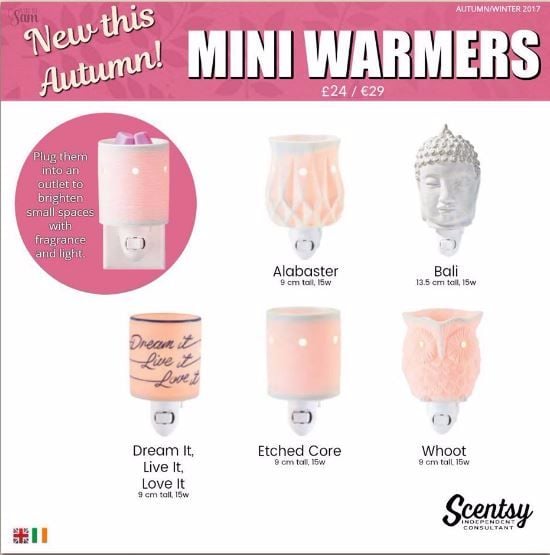 Our Scentsy mini warmers are a new release to the UK and are now available to buy. These cute and stylish warmers plug directly into your wall enabling you to warm your favourite Scentsy bar while giving your home and uplifting glow.
Our Scentsy mini warmers are the most wanted and requested product. I've lost count of how many people have saw these style warmers from the US and asked me if i can get them, at the time i couldn't... but now I can! As from Sept 2017 our great range of Scentsy mini warmers are available to everyone in the UK….Guess what's better too; these stunning warmers are affordable at only £24.00! They light up and are perfect to use as a bedside lamp with a simple on/off switch at the front. Light up your space while enlivening your world with amazing fragrance. Warm one or 2 cubes of your favourite Scentsy bar, switch on and enjoy!
All of our mini Scentsy warmers are available to buy. Choose your favourite and get yours today. If the release of our new mini warmers isn't enough to get you excited about your new purchase, we are now offering reduced shipping! Shop online today and benefit for reduced shipping for all your Scentsy products. Our shipping is now only £6.00 per order for as much or as little as you would like to purchase, allowing you to stock up on your favourite Scentsy products and fragrances. Our standard shipping charge never increases in weight, so take advantage and stock up on all of our great new Scentsy products.
Choose from a great range of warmers, mini warmers amazing Scentsy bar scents and stunning fragrances. Take advantage of our bundle and save offers under the specials tab of my Scentsy shop to get your Scentsy wax bars cheaper than full price. Buy in bundles and save!