Newborn nursery
Creating a sweet and relaxing atmosphere for your little one to rest in is an important part of being a mom. Now, you can gently soothe their senses by using our Newborn Nursery Scentsy Bar come nap time.
Newborn Nursery Scentsy Bar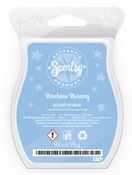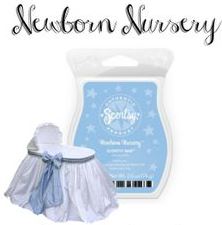 Whether you're expecting, or your child has already grown, the demure, powdery essence of this comforting fragrance will appeal to your maternal love. We've combined a series of delicate, cozy notes such as fresh baby powder and the essence of your tot's silky skin after their first bath.
Every mother will sigh longingly whenever they experience the soft, sweet scent of their little one's nursery. The light aroma that clings to the crib's soft blankets and the tiny garments worn by your child has a soothing quality that can only be fully appreciated by a mom.
Scentsy understands just how much you treasure this aroma, which is why Scentsy have created our Newborn Nursery Scentsy Bar. Use this Scentsy Bar to bring relaxation to your baby's room, or to simply indulge in the pleasure of reminiscing about your child's early days.
If you frequently use our world famous Scentsy Bars to fill your home with luscious aromas, you'll certainly love having an opportunity to save as you stock up! When you buy our 3 Pack of Scentsy Bars, you'll get 3 Bars of your choosing with a total of £1 in savings or purachse in bulk, buy a 6 pack (buy 5 get one free!) saving £5.50! buy scentsy online here
---
Newborn Nursery Scent Pak
Our Newborn Nursery scent isn't just for the baby's room. You can also take it with you wherever you go to remind yourself of your child's sweetness. These can be kept in your car, bag, or wardrobes, draws, in your scentsy buddy (scented teddy) or anywhere to keep things smelling lovely.