Scentsy Element Candle warmers
Want all the benfits of scentsy in a more discreet package? Scentsy element warmers are great for those who love the smell of scentsy's scented wax bars warming without lights.
These smaller more compact warmers are perfect for smaller spaces including bedrooms on a night where you wont want light, offices, hallways or anywhere where you would like a touch of Scentsy fragrance without lights!
These element scentsy warmers are the cheapest of all.
These smaller warmers are perfect for those who would like Scentsy on a budget.
Dont forget to check out other discounted warmers in our closeout section to see whats up for grabs if your on a budget.
find out more about discounted products here, grab yourself a bargain while you can...
Once they gone they gone!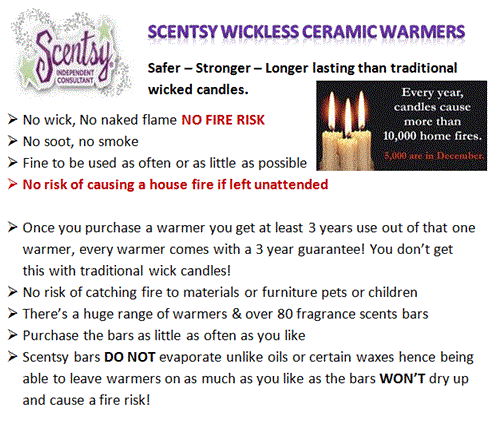 ---
A variety of Scentsy warmers are shown below...
To view the full range or to buy scentsy click here.
BLACK ZEBRA SCENTSY WARMER ELEMENT
A dramatic take on traditional zebra, this all-black warmer showcases contrasting shiny and matte stripes.
---
CARDINAL SCENTSY WARMER ELEMENT
A classic sign of winter, Cardinal is nestled in a beautiful bed of holly. You'll want to display this cheery red bird long after the last snow!
---
CARREY SCENTSY WARMER
Whimsical debossed paisley prints swirl over Carrey's cornflower backdrop, capped with a scalloped warmer dish.
---
GREEN MARBLE SCENTSY WARMER ELEMENT
Smooth, cool marble tones gleam in a patina of bronze and green. Distinctive metallic glaze creates a highly reflective finish that varies with its surroundings.
---
ITSY BITSY SCENTSY WARMER PREMIUM
Itsy Bitsy spins a whimsical web of Halloween fun. This three-piece Element Warmer consists of a warmer base and dish that rest on metal legs.
---
LOVE SCENTSY WARMER ELEMENT
A simple earthenware surface reflects the sweet purity of Love's message.
---
SONGBIRD SCENTSY WARMER ELEMENT
Sing along with the sweet, lilting vocals of your favorite songbird with this one-piece warmer.
---
ZEN ROCK SCENTSY WARMER ELEMENT
Inspired by tranquil spa rocks, Zen Rock combines sleek modern design with the soothing, organic tones of nature.
---