Why should i consider selling Scentsy products?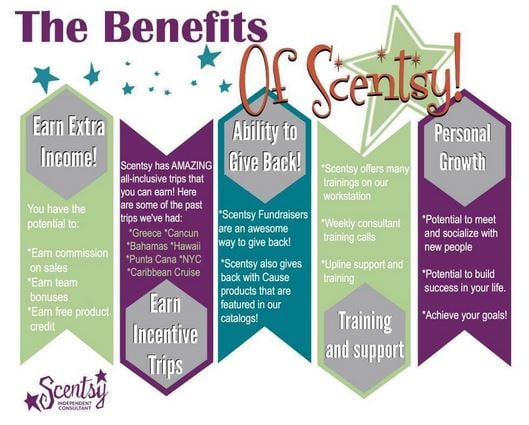 There are so many great reasons to consider selling Scentsy. Many Scentsy fans ask themselves, why should i consider selling Scentsy products? Well the answer is, freedom, free and half priced products plus great commission and bonuses.
Scentsy products are Safe and innovative, the products sell themselves. Those who like candles, aromatherapy or who just a great smelling home, Love Scentsy! If you have not already consider selling Scentsy. I would strongly suggest you take the leap to join. Scentsy is being called the "Recession Proof" company. Scentsy was named the #1 fastest growing consumer products and services company in America in the 2010 edition of the Inc. 500 list, published by Inc. Magazine. (Scentsy had 8000% growth in the previous 3 years!)
How much time does being a Scentsy Consultant take?
That is entirely up to you! When you become an Independent Scentsy Consultant, you are starting your own business, and the time you spend can be managed around other work, children, spouse's and other demands of daily life. Some Independent Consultants work full-time, while others work part-time or just do a party or collect orders to make a little extra income now and then. No matter what your life-style, a Scentsy business can fit your routine and schedule. It's as simple as taking some Scentsy with you and talking about it everywhere you go.
Simplicity. Authenticity. Generosity.
Scentsy has flourished from a small family operation to a thriving international company and a leader in the direct selling industry. But some things haven't changed. We still hold true to our core values and a dedication to contribute more than we take in our relationships with our Consultants, customers, and the communities in which we live and work.
At Scentsy, we're a family. We're honest and hardworking and real. We offer each other support and strive to give anyone who wants to enhance their life the best opportunity to do it.
Scentsy fragrance business generosity
The basis for Scentsy Family's business philosophy comes from a quote by Albert Einstein — a quote that so inspired Orville Thompson as a young man he kept it posted on his bedroom wall: "Try not to become a man of success. Rather, become a man of value. A successful man takes out of life more than he puts in. A man of value will give more than he receives."
Inspired successful business core values of our CEO & President, Orville and Heidi Thompson When they launched Scentsy, the Thompsons determined from the beginning to build their business around core values of simplicity, authenticity, and generosity.
Those key values extend to everything we do.
Scentsy also offer amazing incentives throughout your journey as a consultant, to get a small insight into those amazing incentives click here!
If you have already decided the opportunity is for you then why wait get started today!