Once Upon A Time Scentsy Diffuser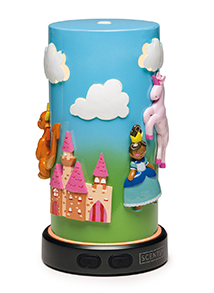 Scentsy Kids home fragrance Diffusers! New Scentsy home fragrance product! Dazzle them with a magical, multi-sensory scented experience. Kids will love creating playful scenes on their very own Scentsy diffuser with colourful magnets in two kid-inspired designs. Each child's Scentsy Diffuser features multiple LED lighting options and mist options. Plus each Kids Scentsy diffuser comes with a set of magnets that kids can change to create their own story design.
These fab creative Kids Scentsy home fragrance Diffusers are a perfect addition to any child's room. Pair our Scentsy kids diffusers with one of our new Scentsy kids scented oils for a perfect Scentsory aromatherapy experience.
Our Once Upon A Time home fragrance diffuser allows children to step inside an enchanted world, where a princess tames a darling dragon as her prince guards the castle. Or maybe they all enjoy a picnic in the meadow? The options are endless with colourful magnets kids can use to design their own fairytale. Includes five magnets. You can of course use your own magnets to create a personalised scene to put that extra special touch onto your childs home fragrance scentsy diffuser. Fab to be used as a night light without having to diffuse a fragrance.