Coconut Lemongrass Scentsy
Coconut Lemongrass Scentsy. The cool creaminess of sweet coconut milk will soothe away all stresses, just like the lapping waves of a tepid lagoon, while the sunny zest of lemongrass will surround you with essence of beach side palms and exotic rainforests.
Coconut Lemongrass Scentsy Bar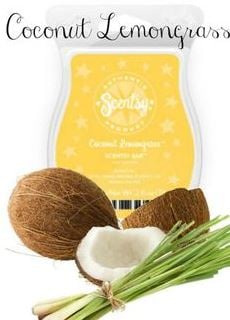 Keeping your excitement under control can be more than you can handle when you think about that upcoming vacation. After pouring yourself into your work and running on full throttle, you know that you more than deserve it. Thanks to Scentsy, you can get an early start on your retreat by using our Coconut Lemongrass Scentsy Bar.
You'll be treating yourself to little bursts of bliss every time you inhale the indulgently tropical aroma that will fill your room. You don't have to wait until you've reached your dream destination, unwind and give yourself the gift of paradise with our Coconut Lemongrass Scentsy Bar!
If you can't get enough of our wickless candles, stock up by purchasing our 6 Pack of Scentsy Bars. This will give you a buy 5 get 1 free deal, meaning you'll save £7.25 when you buy your Scentsy Bars in this our combine and save bundle. Mix and match scents for a diverse sampling of our aromas, or buy your favorite scent in bulk. To select our 6 pack bundle option on Scensty candle bars find specials, then bundle and save before adding prodcts to your basket.
This amazing scentsy fragrance 'Coconut Lemongrass' is also available in a scents pak and other products too!