Call Me To Discuss Joining Scentsy candles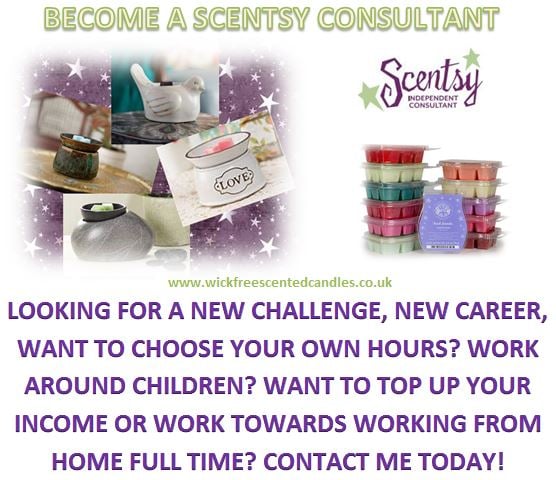 Call me to discuss joining Scentsy as a Scentsy consultant to work from home. fantastic opportunity not to be missed. Earn a long term regular income.
Join me offering amazing wickfree Scentsy products, flexible hours, pay is monthly, unlimited earning potential. I'd be your personal sponsor to help and guide you along the way!! You tell me what you'd like to achieve and I'll give you the guidance that you need!! For more information on becoming a wickfree Scentsy consultant please call me on 07943730454 or email me [email protected]
You have the chance to earn around family or a current job as a hobby or make a career out of offering Scentsy products. Earn amazing incentive trips to holiday destinations. Pay is monthly. You choose your own hours. Who wouldn't want to earn a long term regular monthly income???
JOINING SCENTSY AS A SCENTSY CONSULTANT IS A FANTASTIC OPPORTUNITY WITH THE POTENTIAL TO CHANGE YOUR LIFE! www.wickfreescentedcandles.co.uk
Contact Helen Keighley - Independent Scentsy Director
Email: [email protected]
Call: 07943730454
Find me on facebook: Join my Scentsy Facebook group here