Aromatherapy Diffuser & Colour Changing Lamp
Posted on
At Scentsy we don't just offer an oil diffuser, we offer the world most advanced diffuser on the market combining light, fragrance and unique cold mist with the latest technology. This stunning vessel offers you an amazing aroma experience.
Discover Scentsy world class ultrasonic cold mist technology Home fragrance Diffusers. Our Scentsy diffusers offer a range of features and benefits allowing you to combine fragrance light and mist with our amazing all in one fragrance system. Our stunning diffuser shades complement any home offering a stunning focal point to your home.
Choose from an amazing range of essential oils & Scentsy Cold Mist technology oil diffusers from my online Scentsy shop. Combine both for the ultimate sensory experience.
Because cold Diffusers offer the best essential oil aromatherapy experience Scentsy created their very own ultrasonic cold mist technology oil Diffuser. Combine the best of our essential oils with our international leading home fragrance diffuser for the ultimate aroma experience.
Lets take a look at the great features and benefits our Scentsy Diffusers have to offer..
Oil Diffusion - Our Scentsy Diffusers disperse essential oils as a fine cold mist technology throughout the air. The aroma can prompt the nervous system to transmit signals in the brain that houses emotion and memory. The brain may respond by initiating various physiological functions, such as a positive boost in mood or have natural calming effects.
Customisable fragrance experience - You can customise your own fragrance experience by adding more or less oil to suit how strong you would like your fragrance.
Instant fragrance - Our Cold-mist technology allows you to enjoy fragrance instantly without waiting.
Humidifier - If you wish to use your diffuser as a humidifier only without oil, simply fill the reservoir with water and no oil for instant mist. One of the major benefits of having this device in your home is the protection it offers against dry air. This is particularly true during the winter when indoor air become dry from the heating system that robs the natural moisture in it. In addition, a humidifier helps to add the much-needed moisture to your space and form an optimal breathing situation during the cold months. This can help your child to sleep better and loosen mucus build-up if used in a nursery.
Lamp - Our bright Lighting settings can be used with or without the diffusion of oil or water offering you a stunning Lamp throughout the days or evenings.
Colour changing lighting effects - Each Scentsy Diffuser has 16 LED light options and a range of colour options. Our lighting options offer you a clear mode, candle flicker mode, various colour modes and also colour rotation mode which allows you to slowly rotate through each colour the diffuser has to offer or choose your favourite colour to keep on. The colour options make our Scentsy diffusers a truly stunning decorative piece to add to any home or space.
Interchangeable shades - The only diffuser offering interchangeable decorative shades to complement any décor. Replacement shades can be bought alone if you decide you would like to change your design without having to buy the full system again.
Lifetime warranty - We offer a Lifetime warranty with each Scentsy Diffuser, you can be assured our diffusers are designed to last! If there are any problems with the manufacturing and workmanship of the diffuser you are covered by a lifetime warranty!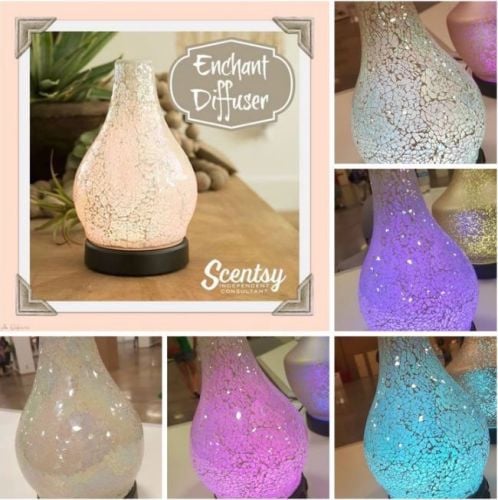 Our Scentsy diffuser can be used as a fragrance delivery system, humidifier, and a stunning focal point for your home, a relaxation aid or a night light and lamp! There are so many benefits to buying a Scentsy diffuser for you and your home and your family. Our Scentsy Diffusers are a stunning world class must have product.
Shop available Diffusers and view the great range of products.