Become A Consultant - Join Scentsy - Sell Scentsy
Posted on
Become A Consultant - Join Scentsy - Sell Scentsy. There are many reasons you may decide to want to Join Scentsy to work from home a a Scentsy consultant. Selling Scentsy wick free candles and scented products is easy. Our products tend to sell themselves once demonstrated due to the safety aspect. Everyone loves candles and home fragrance products, but when customers realise they can buy Scentsy products as a safer alternative thats when they are amazed! ... Not to mention the range of amazing fragrances we have!
People may want to start selling Scentsy as a hobby or maybe to work around a current job or children. Scentsy is flexible which makes it a great business opportunity. You can work Scentsy around a current job or lifestyle. If a new consultant decides to join Scentsy they choose how they would like to work their business, there's plenty of help and support on offer, but no pressure. Some consultants join to work while children are at nursery or school or while children are sleeping on the evening and they can go out a couple of hours in the evening. Some consultants dont have time to go out to offer Scentsy parties but still become successful. Consultants can offer Scentsy baskets as a party on the go as a party alternative but offering the same amazing rewards as a home party, its a tried and tested method and works! We also have hobby consultants that like to just offer Scentsy products to a range of family & friends just to earn a little extra monthly income. Some consultants decide to work as often as they like and make an amazing career out of Scentsy earning an amazing income each month.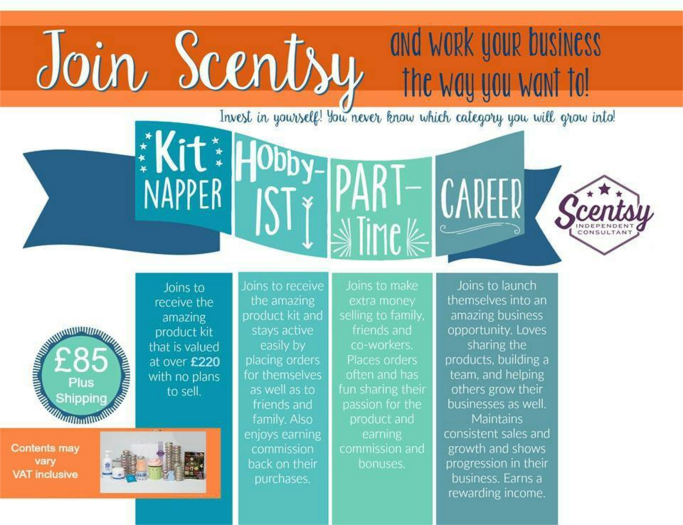 Not only is the Scentsy opportunity flexible there are some amazing rewards and recognition along the way. Whether you wish to aim for awards is a personal choice. some do, some dont. Theres no pressure. You set your own goals and you know why you may want to join Scentsy.
Each year Scentsy put on amazing incentives. They offer all expenses paid trips to holiday destinations. Again, its a personal choice if you wish to work your business to aim towards the incentive trips. Many consultants achieve the trips and for those that cant go on the trips or decide not to go on the trip for personal reasons are awarded with a product credit alternative of over a few hundred pounds (or euros). Each incentive trips differs and different incentives and goals are set to achieve the trips each time.
Some consultant join for their love of the product. They have previously purchased Scentsy and realise how much of a bargain the kit is, they join to place their own perosnal orders for themselves and for friends and family just to earn a little extra cash each month.
Find out about My Scentsy Story. I orginially joined Scentsy as i wanted to try a range of fragrances rather than just one or two bars and felt the starter kit was a great deal. I knew i had nothing to loose so joined and purchased the kit.... and i'm still here and loving the Scentsy business opportunity! I have an amazing team and an amazing returning customer base.
Why not contact me to discuss joining Scentsy. Ask me about any questions you may have or concerns you may have. The time has to be right for you to join. I happy to provide you with information and offer my help and support. If the time isn't right for you then thats fine. You always welcometo contact me when you feel the time if right. Call me for a friendly chat about joining as a consultant and to discuss your options, my telephone number is 07943730454. Alternatively you can contact me here.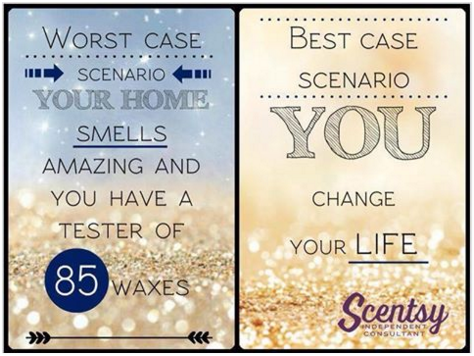 For me, Joining Scentsy was one of the best decisions I ever made. I would advise anyone undecided about joining to take the leap and join. What have you got to loose? The joining kit is a fantastic bargain and has everything in it to get your started. Whats the worst than can happen? You have amazing warmers & the whole range of fragrances to use for yourself and have an amazing smelling home!

If you already know the opportunity is for you then you are welcome to join through my website.
* When you are asked for a tax ID on the enrollment form please use either a valid national insurance number or passport number. You will be asked to pay for the starter kit at the time you enroll to complete your enrollement. The kit will be sent direct to your home within 3-5 working days. As soon as your enrollment is complete I am notified and will be in touch to officially welcome you and help and support you along the way.
---