Home Fragrance & Scented Products | Scentsy | Buy Online UK
Posted on
Scentsy HOME fragrance products, buy scentsy online uk, shop home fragrance scentsy products.
Scentsy's home fragrance category consist of beautiful and functional decorative vessels that deliver an exceptional fragrance experience:
• Hand crafted ceramic Scentsy Warmers designed to safely warm and melt scented wax from a low what hotplate inside of the warmer to give the ulitmate scented candle wax experience without any wick naked flame or fire risk! With no sooke or smoke this is a must have altertaive to scented candles and candle jars.
• NEW Scentsy Diffuser. The world's most advanced ultrasonic nebulising diffuser the newest amazing interior design fragrance product!
Introducing the Scentsy Diffuser, our most personal fragrance experience yet. Simply add water and your favourite Scentsy Oil to the reservoir, choose your light and mist option and enjoy. The Scentsy Diffuser releases your perfect fragrance, carried in a microscopic mist, for an exclusively natural, full-bodied, immediate experience precisely matched to your personal preferences.
Features and benefits
• The world's most advanced ultrasonic nebulising diffuser
• Lifetime warranty
• 16 LED light options
• The only diffuser offering interchangeable decorative shades to complement any décor
• Delivers a consistent fragrance experience
• High, low and intermittent diffuser modes give you complete control over the intensity and longevity of your fragrance experience
• Customise your fragrance experience by adding more or less oil
• Cold-mist technology allows you to enjoy Scentsy fragrance instantly without waiting
*Essential Oils - Harvested from the most fragrant botanicals in the world, our pure essential oils deliver a singular fragrance. Combine with other Scentsy Oils to create a personalised sensory experience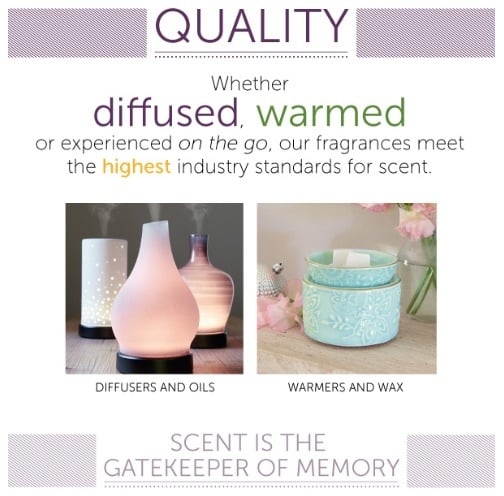 ---