New UK Scentsy Bar Fragrances 2015
Posted on
New UK Scentsy bar fragrances (Scented wick free candle wax bars) available from March 1st 2015. From the new spring/summer catalog range. Stunning fragrances from Spring/summer, corner cafe, fresh, fruity, favourites, mens fragrances, sweet smelling fragrances, romance fragrances, woddy fargrances. Theres a scentsy wick free candle wax bar to suit any taste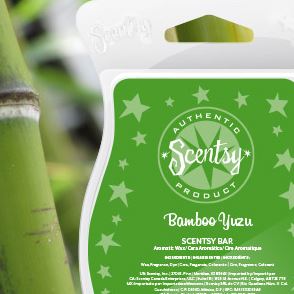 Bamboo Yuzu Scentsy Bar
Melt into a heightened sense of consciousness as the cubes of Bamboo Yuzu warm and the tranquil scents swirl. Exotic Asian yuzu blends its restrained citrus note with languid lotus and a breath of sage, bordered with tender shoots of fresh, green bamboo, a peaceful ambiance that calms and relaxes.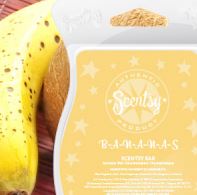 Bananas Scentsy Bar
The Bananas Scentsy Bar brings you right back to childhood pleasures, untwisting a bright yellow taffy and popping it into your mouth. Bananas blended with coconut milk, get a shake of vanilla to smooth out the fragrance, ready to set the Scentsy-scape for your kids' next play date or adults' retro night.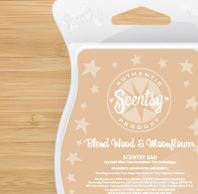 Blond Wood & Moonflower Scentsy Bar
Glimmering in the starlight, white blooms share their fragrance in the Blond Wood and Moonflower Scentsy Bar. Opening only in the cool of the evening, elegant moonflowers mirror the silvery orb in the sky and lilies are like stars that fell from the heavens. Roses round out the floral mix, with a touch of light wood.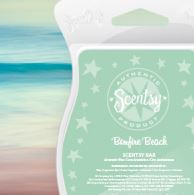 Bonfire Beach Scentsy Bar
Dripping with the sweet smell of melted marshmallows turning over aromatic sandalwood coals, the Bonfire Beach Scentsy Bar recreates the aura of sitting on white flint boulders circling a seaside firepit, good friends sharing good times as the salty ocean waves crash and the brisk sea breeze fans the flames.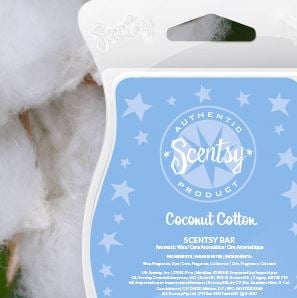 Coconut Cotton Scentsy Bar
When the Coconut Cotton Scentsy Bar is warming you'll be looking for a basket full of clothes and linens warmed by the sun and just folded after an afternoon in a brisk wind. The scent of crisp cotton and white sandalwood is enhanced with sweet and creamy coconut milk and a hint of citrus.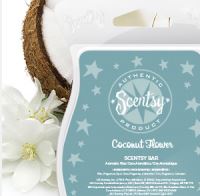 Coconut Flower Scentsy Bar
You can almost hear the trade winds in the palms and the surf crashing on a warm sandy beach when you melt the Coconut Flower Scentsy Bar in a favorite warmer. Exotic floral notes and luscious tropical fruit and coconut milk combine into a perfect South Sea fragrance medley.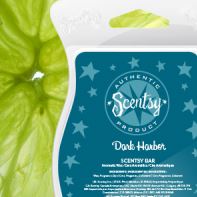 Dark Harbor Scentsy Bar
Dark Harbor Scentsy Bar is a definite top choice for date night, especially if the date begins and ends at home. Complex combinations of green herbs and bold flower notes satisfy on many levels, with bright top notes of mint and kaffir lime and a smooth underpinning of golden amber for a slow finish.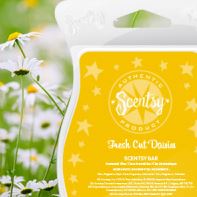 Fresh Cut Daisies Scentsy Bar
An abundance of colorful and delicately fragranced wildflowers results in the Fresh Cut Daisies Scentsy Bar, a perky and fresh combination of buttercups, clover and daisies. Sprinkled with a garnish of newly mown grass, this bar will not overwhelm but politely scent and clear the air from within your favorite warmer.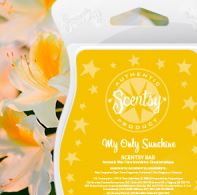 My Only Sunshine Scentsy Bar
This may be the gift to give or get this Scentsy Season, the My Only Sunshine Scentsy Bar conveying a heartfelt sentiment known to many. Drop the jazzy jasmine and sentimental tuberose combo into a pretty warmer and wait for soft sandalwood, lush vanilla and golden amber to join the chorus.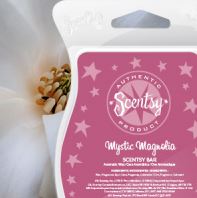 Mystic Magnolia Scentsy Bar
As the sun rises and the blossoms open to receive the first rays, the magic of the Mystic Magnolia Scentsy Bar is revealed. Creamy lemony vanilla with sweet and spicy notes from a touch of rare rosewood is brought together with golden beads of smooth amber, sunlight captured for an all day or night fragrance.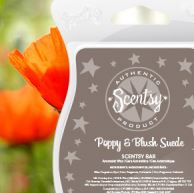 Poppy & Blush Suede Scentsy Bar
Gather everyone who walks through your door into the embrace of spring with the Poppy and Blush Suede Scentsy Bar. Poppy, honeysuckle and plum blossom briefly but so beautifully, and with this Scentsy bar you can experience that moment of bliss all year long. Lemony-minty verbena and white musk add fun and a little drama while suede gives it all a hug and a kiss.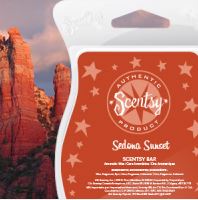 Sedona Sunset Scentsy Bar
Scent a sultry scene with the Sedona Sunset Scentsy Bar. Melt into the lush florals that debut only in the evening, night flowering jasmine, desert lily and the magical vanilla orchid. Comforting creamy coconut milk washes over all, and your fragrance decor is complete. Now close your eyes and imagine those red rock cliffs in the dying light and give in to total relaxation.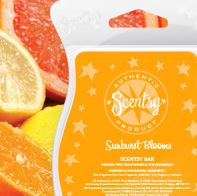 Sunburst Blooms Scentsy Bar
Packed full of brash and bold Springtime, the Sunburst Blooms Scentsy Bar will set all the birds a'singing as they build their nests and your heart lifting as winter recedes. Jaunty jonquils and sweet honeysuckle join forces with pink grapefruit and lemon in a celebration of longer days, warmer breezes and the strengthening sun.
New uk scentsy fragrance wick free candle wax bars.
Buy online here or view the full range of amazing fragrances