Scentsy Delivery /Shop Scentsy Online For Home Delivery
Buy scentsy wickfree candles warmers, wickless candle wax bars, scentsy products and scentsy buddies online and get scentsy delivered direct to your door? This is a great way if you wish to buy scentsy rather than call and have to wait for a party order to be placed. If you buy scentsy online, the shipping cost is £9.00 for as much or as little as you like. I always advise anyone who wishes to buy scentsy online to stock up to get the most out of the delivery cost. The delivery cost is £9.00 for as much or as little as you like, if you order over £225 worth of scentsy products you earn the delivery free. However, rather than just getting the delivery free contact me direct to place the order for you and you can earn rewards on top of free delivery as party rewards starts from £225. By placing a simple order of £225 or more on scentsy products, wickfree warmers, wickless candle bars, scentsy buddies, or discounted scentsy bath and body products you can earn free product credit to spend on anything scentsy and also one half priced scentsy item. (delivery for orders to be eligable to earn the free shipping must go to one single address).
If you would like to get delivery direct to your home/one address without having to pay the delivery cost why not offer friends and family for the chance to purchase scentsy products with you at the same time, you place the order direct with me and reap the rewards. it pays to collect orders from friends and family to save on delivery and to reap the rewards. If an order placed is under £225 you can all still benefit by sharing the delivery cost, still being able to order as much or as little as you like.
If you wish to contact me direct to place the order to qualify for free delivery & rewards please contact me direct so i can get you your rewards The more orders you collect the more rewards you earn!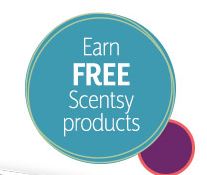 All bulk orders are placed as party orders for you to reap the rewards!